Start Date
Monday, July 22, 2024
End Date
Sunday, July 28, 2024
Fair Location
Cape Cod Fairgrounds
1220 Nathan Ellis Highway, Route 151, East Falmouth, MA 02536, United States
Hours
Monday to Thursday:

4 pm – 10 pm

Friday and Saturday:

12 noon – 10 pm

Sunday:

12 noon – 9 pm
Midway closes after 1 hour of gate closure.
Organizer
Barnstable County Agricultural Society
Contact
Phone:

(508) 563-3200

Email:

info@barnstablecountyfair.org
Social Media Profiles
Facebook:

fb.com/barnstablecountyfair

Instagram:

instagram.com/barnstablefair
Website
https://capecodfairgrounds.com/barnstable-county-fair/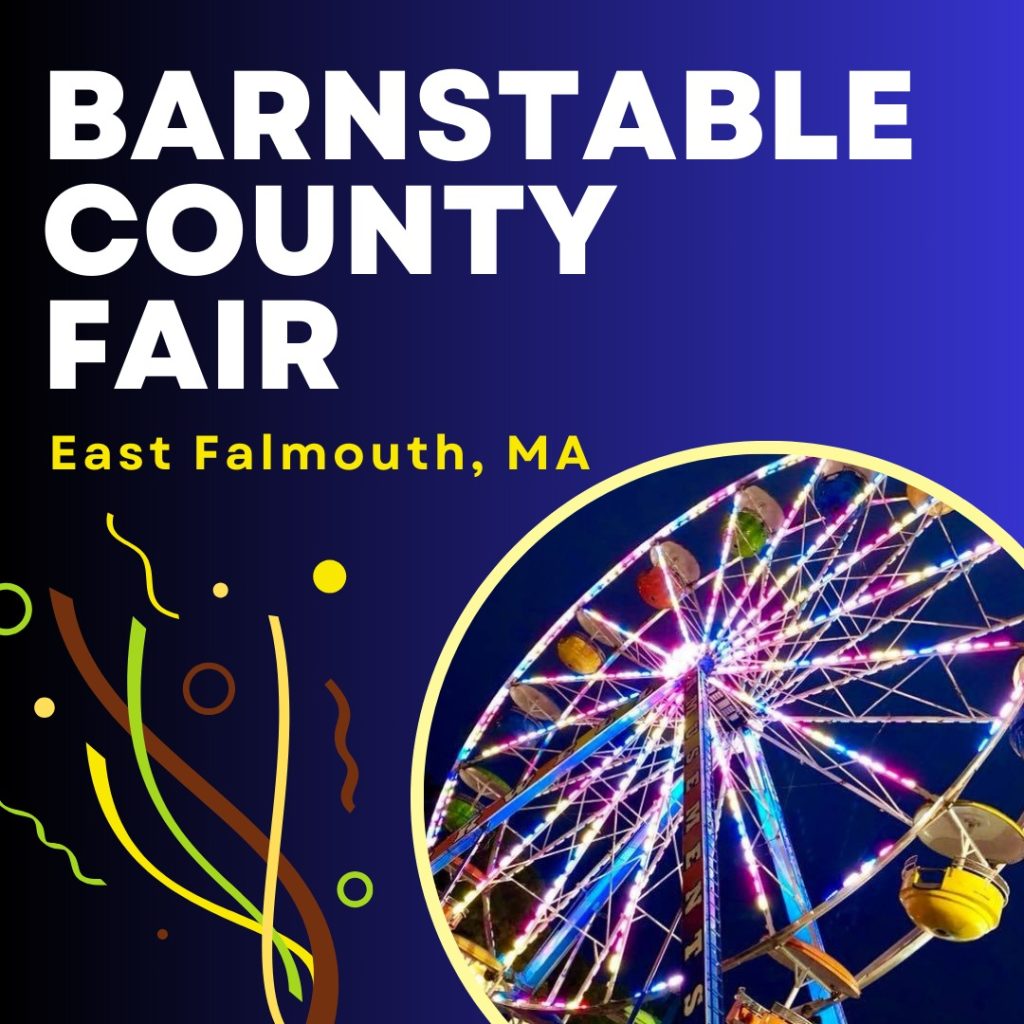 About Barnstable County Fair
Barnstable County Fair is held each July at Cape Cod Fairgrounds in East Falmouth, Massachusetts. The Barnstable County Agricultural Society organized its first fair in October 1844 at the County Court House in Barnstable Village.
In 1931, the Barnstable County Agricultural Society announced that this year's fair would be its last. In April 1954, a committee of citizens met and decided to hold the Barnstable County Fair for 3 days in mid-August. So the fair had a new beginning which was warmly welcomed by both county residents and visitors.
After more than 100 years of the fair's beginning, the Agricultural Society purchased the current fairgrounds in 1973 which are now known as the Cape Cod Fairgrounds.
Today, the Barnstable County Fair is a widely celebrated community tradition that has been a family destination for people in Barnstable County and beyond. This fun-filled event features livestock exhibits, tasty food, carnival rides, demolition derbies, demonstrations, vendors, entertainment, and much more. In addition to livestock, the Barnstable County Fair also offers a large number of other exhibits including photography, arts & crafts, science, baked goods, and nonprofit exhibits. In 2023, the seven-day Barnstable County Fair will begin on Monday, July 22 and conclude on Sunday, July 28.
Related Events