The 64th Annual Garden Grove Strawberry Festival
Start Date
Friday, May 24, 2024
End Date
Monday, May 27, 2024
Festival Location
Village Green Park
Euclid St & Main St, Garden Grove, CA 92840, United States
Hours
Fri, May 24:

1 pm – 10 pm

Sat, May 25:

10 am – 10 pm

Sun, May 26:

10 am – 9 pm
Contact
Phone:

714-638-0981

Email:

info@strawberryfestival.org

Mailing Address:

P.O. Box 2287, Garden Grove, California 92842
Social Media Profiles
X:

twitter.com/GGStrawberryFst

Facebook:

fb.com/StrawberryFestivalGardenGrove

Instagram:

instagram.com/strawberry.festival
Website
https://strawberryfestival.org/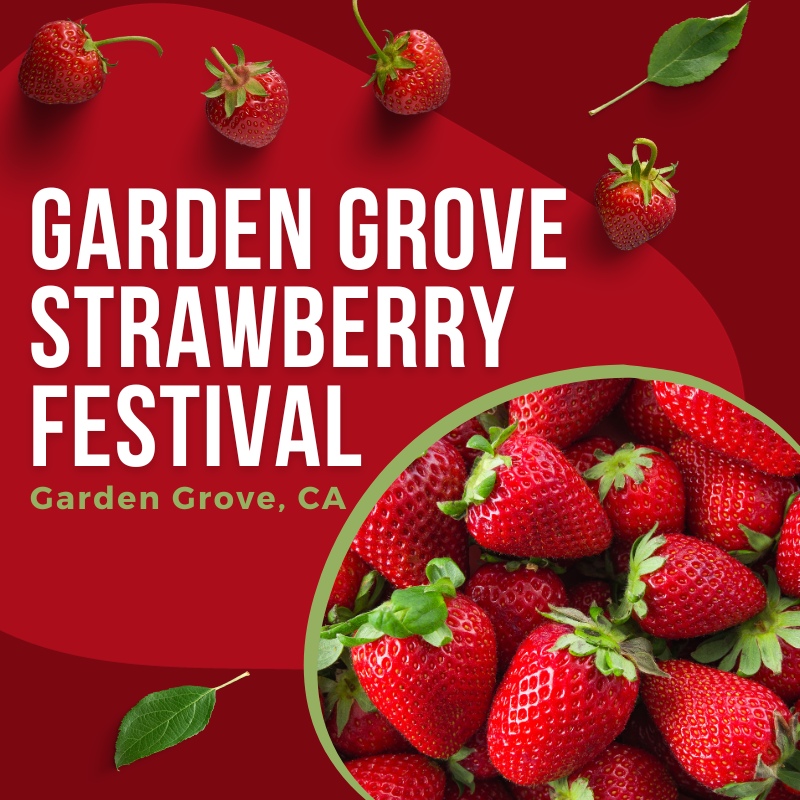 About Garden Grove Strawberry Festival
Garden Grove Strawberry Festival is held each year over the Memorial Day weekend at the Village Green Park in Garden Grove, California. The festival started in 1958, as an effort by the Garden Grove Chamber of Commerce to bring together the east and west sides of the city. The Strawberry Festival has been a widely celebrated and wholesome community tradition in Orange County, California for more than 60 years.
Garden Grove Strawberry Festival is a non-profit organization that benefits local organizations and has donated more than $7 million to hundreds of non-profits since its inception.
The strawberry festival features many attractions for visitors including a parade, amusement rides, games, food booths, strawberry cakes, a strawberry costume contest, a strawberry stomp 5K, live music, and more. In 2024, the four-day Garden Grove Strawberry Festival will begin on Friday, May 24 and conclude on Monday, May 27.
Related Events