41st Anniversary of the Michigan Horse Expo
Start Date
Friday, March 8, 2024
End Date
Sunday, March 10, 2024
Event Location
MSU Livestock Pavilion
4301 Farm Lane, Lansing, MI 48910, United States
Horse Expo Hours
Fri, Mar 8:

10:00 am – 7:30 pm

Sat, Mar 9:

9:00 am – 7:30 pm

Sun, Mar 10:

10:00 am – 4:00 pm
High School Rodeo Hours
Fri, Mar 8: 7:00 pm to 9:30 pm
Parking
Parking is free at MSU Pavilion but the parking lots close to the pavilion fill-up quickly. There is ample parking in nearby University parking lots and free shuttle buses will take the visitors to the Pavilion and back.
Organizer
Michigan Horse Council
Contact
Mailing Address: PO Box 22008, Lansing, MI 48909-2008
Social Media Profiles
Twitter:

twitter.com/mihorseexpo

Facebook:

fb.com/MichiganHorseExpo

Instagram:

instagram.com/mihorseexpo
Website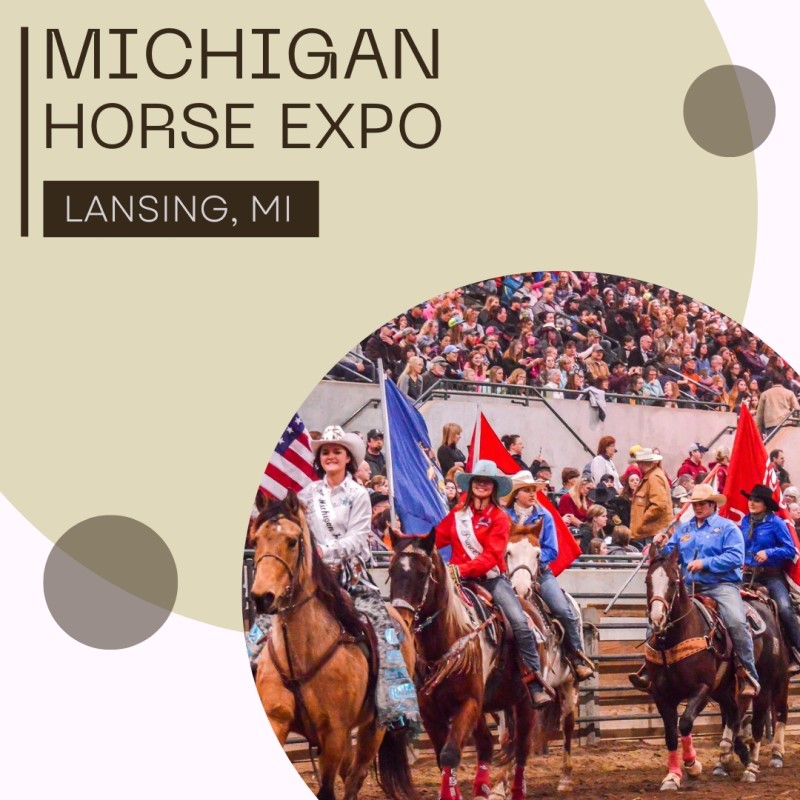 About the Expo
The Horse Expo annually takes place at MSU Livestock Pavilion in Lansing, Michigan. It is one of the longest-running and among the largest equine events in the United States. In addition to over 300 horses, the Expo also features seminars, educational events, clinics, vendor booths, and more. The Horse Expo also offers competitions, rodeos, and Michigan Mounted Police Presentation of the Colors. In 2024, the three-day Michigan Horse Expo will take place from Friday, March 8 to Sunday, March 10.
Related Events