Julia Fiona Roberts was born in Smyrna, Georgia on October 28, 1967. She is one of the leading American actresses and producers. She began her acting career in the late 80s and gained fame after starring in Pretty Woman.
Julia Roberts will celebrate her 56th birthday on Saturday, October 28, 2023.
Facts About Julia Roberts
Julia Roberts has earned People Magazine's World's Most Beautiful Woman title a record five times.
She was paid a record $25 million for her role in the 2003 film Mona Lisa Smile.
She was engaged to Dylan McDermott but they broke off their engagement.
Roberts turned down the leading role in the 1993 classic Sleepless in Seattle. The role went to Meg Ryan.
Actress Lisa Roberts Gillan is her sister and Actress Emma Roberts is her niece.
She has received many awards during her career including Academy Award, Golden Globe Awards, Blockbuster Entertainment Award, CinEuphoria Award, Gold Derby Award, People's Choice Awards, and BAFTA Award.
She has insured her iconic smile for $30 million.
Julia shares a birthday with Bill Gates, Andy Richter, Dennis Franz, Caitlyn Jenner, Brad Paisley, Troian Bellisario, Gwendoline Christie, and Matt Smith.
She was one of People Magazine's '25 Most Intriguing People of 2001'.
Pretty Woman, Erin Brockovich, Ocean's Eleven, My Best Friend's Wedding, Charlie Wilson's War, and Runaway Bride are some of her popular movies.
Roberts became the first actress to earn $20 million for a movie role. She played the lead role in the biographical film Erin Brockovich released in 2000.
Denzel Washington once quoted her in an interview with Oprah Winfrey. He said "I love the way Julia Roberts put it: "I'm just an ordinary person who has an extraordinary job."
She is a fan of Dr. Fauci, Director of the National Institute of Allergy and Infectious Diseases. Julia to Dr. Fauci, "you truly have emerged as a personal hero for me."
Happy Birthday, Julia Roberts!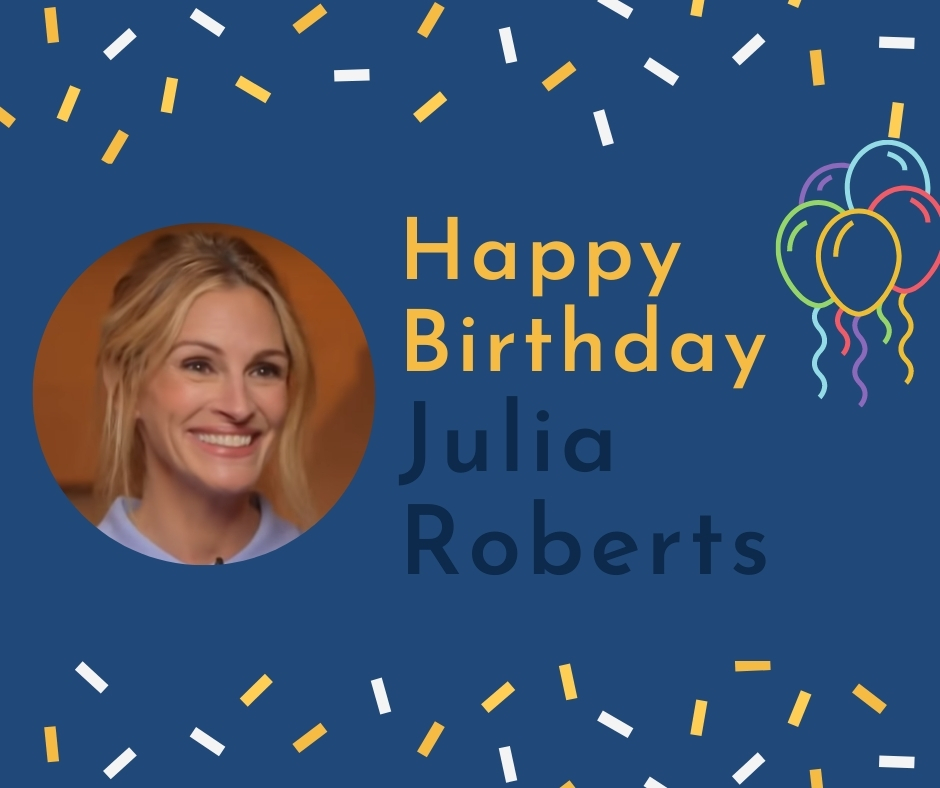 | | |
| --- | --- |
| Date of Birth | October 28, 1967 |
| Birthplace | Smyrna, Georgia |
| Age | 55 years old |
| Hashtag | #HappyBirthdayJuliaRoberts |