40th Year of Kentucky Wool Festival
Start Date
Friday, October 6, 2023
End Date
Sunday, October 8, 2023
Festival Location
48 Concord Caddo Road, Falmouth, KY 41040, United States
Hours
Fri, Oct 6:

10 am to 10 pm

Sat, Oct 7:

10 am to 10 pm

Sun, Oct 8:

10 am to 6 pm
Contact
Phone:

(859) 951-8025

Facebook:

fb.com/kywoolfest
Website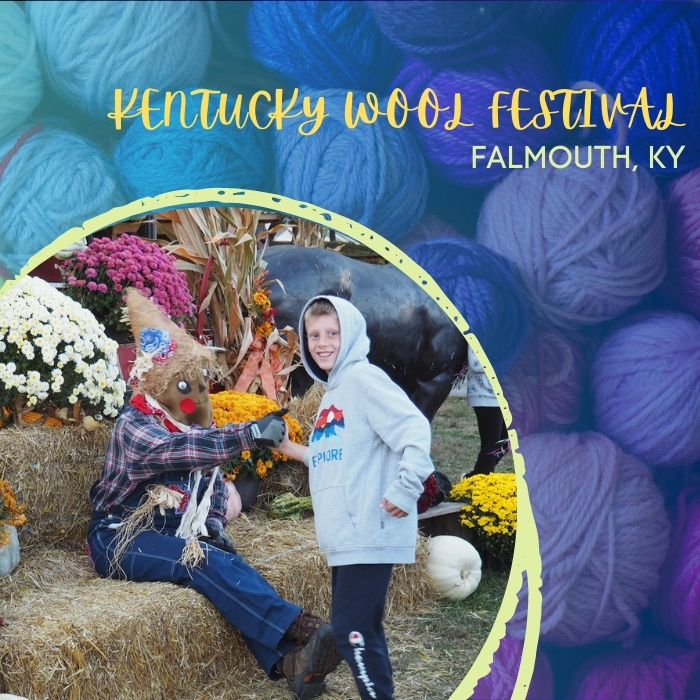 About Kentucky Wool Festival
Kentucky Wool Festival is held annually over the first weekend of October in Falmouth, KY. The festival was first organized in October 1983 to promote sheep, wool products, and the local community. Today, the annual Wool Festival is still going strong and upholds the mission of celebrating artisans and local heritage.
KY Wool Festival is a family-friendly event featuring many attractions such as juried crafts, food booths, entertainment, sheep shearing demonstration, and more. One of the main highlights of the festival is the Wool Tent which offers raw, washed, and ready-to-spin fleeces from various breeds of fiber animals – including sheep, alpacas, goats, llamas, and rabbits. The Wool Tent also features a number of demonstrations, such as spinning, knitting, weaving, needle felting, and wool processing.
In 2023, the three-day Kentucky Wool Festival will begin on Friday, October 6 and will continue till Sunday, October 8.
More Events