The 60th Annual Bluff Park Art Show
Event Date
Saturday, October 7, 2023
Event Location
Bluff Park Community Center
517 Cloudland Dr, Hoover, AL 35226, United States
Organizer
Bluff Park Art Association
Contact
Email:

presidentbpaa@gmail.com

Facebook:

fb.com/BluffParkArtAssociation

Mailing Address:

P.O. Box 26012, Birmingham, Alabama 35260
Website
https://www.bluffparkartassociation.org/art-show-schedule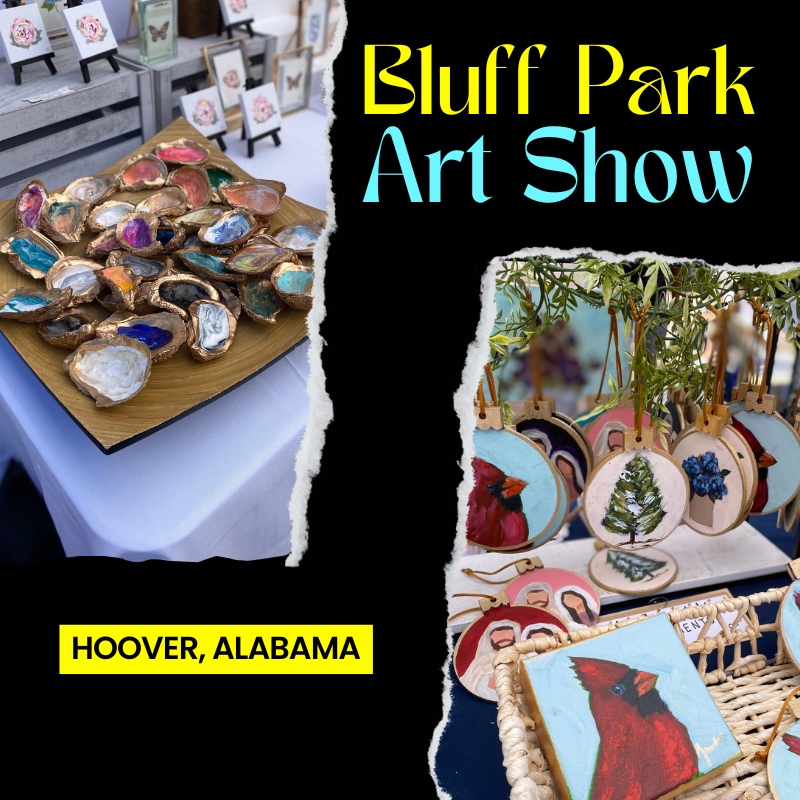 About Bluff Park Art Show
Bluff Park Art Show is a one-day juried art show held annually on the first Saturday in October at Bluff Park Community Center in Hoover, Alabama. In addition to arts & crafts, the event also features live music, food, a bake sale, art activities for children, and more.
It all began in 1963, when a group of parents from Bluff Park School sponsored a "Come As Your Favorite Book" dance as a fund-raising project for the school library. In 1964 most of the same people held an art show auction, which was sponsored by Bluff Park PTA.
In 1965, a non-profit corporation was formed and the second art show took place at the Shades Cliff Community Park (Bluff Park Community Center). 65 artists participated in the second art show and the response from the community was overwhelming. From this point on, the Bluff Park Art Show has been an eagerly awaited annual event that now attracts over 30,000 people and more than 100 artists from all over the United States.
In 2023, Bluff Park Art Show will be held on Saturday, October 7.
More Events