The 35th Annual Arizona Renaissance Festival
Event Dates
February: 3-4, 10-11, 17-18-19, 24-25
March: 2-3, 9-10, 16-17, 23-24, 30-31
Event Venue
12601 US-60, Gold Canyon, AZ 85118, United States
(seven miles east of Apache Junction)
Hours
10 am to 6 pm
Parking
Parking is free.
Contact
Phone:

(520) 463-2600

Twitter:

twitter.com/azrenfest

Facebook:

fb.com/RENFESTINFO
Website
https://arizona.renfestinfo.com/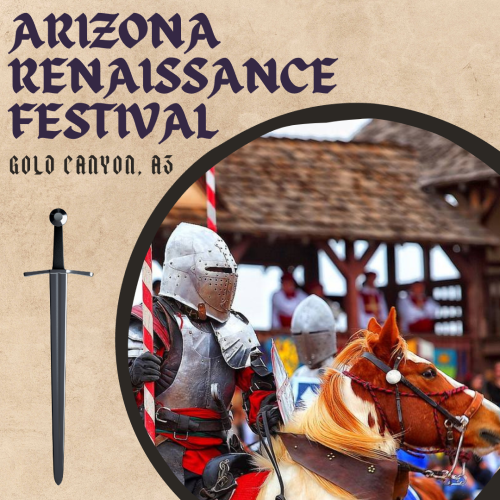 About the Arizona Renaissance Festival
Arizona Renaissance Festival is held each year at the 50-acre fairgrounds in Gold Canyon, AZ. It is one of the largest Renaissance festivals in the country and is packed with plenty of fun and entertainment for the whole family.
The Arizona Renaissance Festival features medieval arts & crafts, jousting performances, feasts, entertainment stages, circus, rides, games, and so much more. Attendees can also witness the ancient skills of leatherwork, glassblowing, candlemaking, blacksmithing, weaving, woodcarving, etc. The Renaissance Festival is a sought-after venue for artisans to showcase their products as more than 200 artisans display a variety of unique, hand-made wares.
In 2024, the Arizona Renaissance Festival will be held on Saturdays, Sundays, and President's Day from February 3 to March 31.
Related Events