National Pizza Day is celebrated every year in the United States on February 9th. This awesome food holiday is dedicated to celebrating one of America's all-time favorite foods. There is no better way to observe this day than eating your favorite pizzas. Many eateries offer crazy discounts and deals on National Pizza Day. You can bake pizzas at home or order some from your favorite pizza place and have a pizza party with friends.
National Pizza Day will be celebrated on Friday, February 9th, 2024.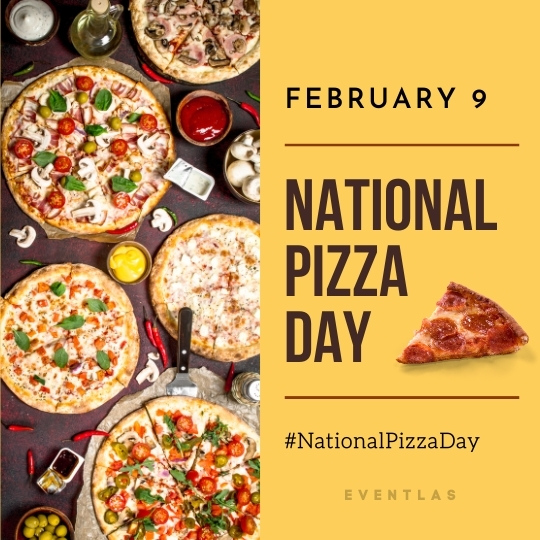 Interesting Trivia
The largest pizza was made in Rome, Italy on December 13, 2012. The pizza measured 13,580.28 square feet and was named Ottavia as a homage to the first Roman emperor Octavian Augustus.

Brian Edler of USA made the most pizzas in one hour in December 2010. He made 206 pizzas which amount to almost three and a half pizzas every minute.

Kelvin Medina of the Philippines achieved the world record for the fastest time to eat a 12 inch pizza on 12 April 2015. He took only 23.62 seconds to devour his pizza.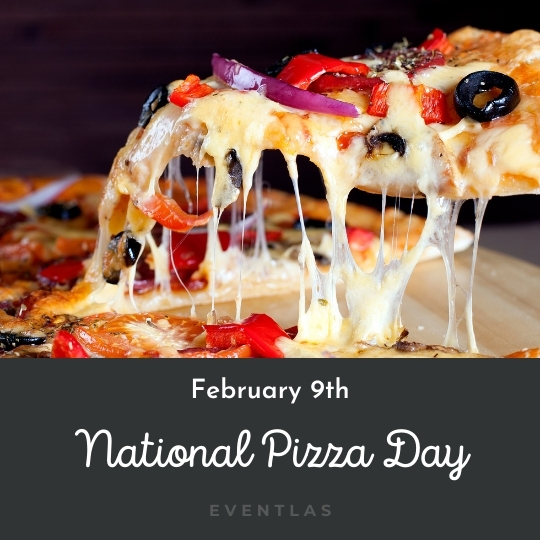 Quick and Easy Pizza Recipe
A great way to celebrate National Pizza Day is to make pizza at home and here is a quick and easy recipe.
Ingredients
2 ½ cups bread flour

1 ½ teaspoon active dry yeast

1 teaspoon white sugar

½ teaspoon garlic powder

1 teaspoon salt

2 tablespoons olive oil and some additional for greasing

1 cup warm water (ideally between 110-115F, too hot water won't work well)

Suggested toppings: tomato sauce, mozzarella cheese, parmesan cheese, thinly sliced onions, dried oregano, pepperoni/mushroom/olives, etc.
Directions
Mix together yeast, sugar, and warm water. Let sit for 10 minutes. Sift in flour, garlic powder, and salt. Add olive oil and stir the ingredients very well. You might want to add a bit more flour to make sure that the dough is forming into an elastic ball.
Brush a separate bowl with olive oil. Form the dough into a round ball and transfer to the new bowl brushed with oil. Use a plastic wrap to cover the bowl and place it in a warm place. Let rest for about 30 minutes or until the dough doubles in size.
Meanwhile, preheat the oven to 425 degrees F.
Turn dough out onto a lightly floured surface and work the dough into a circle after kneading briefly. Put the crust in a lightly greased pizza pan. Use a fork to poke holes all over the center of the crust. Add the toppings of your choice and bake in the preheated oven for 15 to 20 minutes or until the cheese and crust are golden brown. Enjoy!
How to Make New York Style Pizza at Home
Related Events
National Pizza Day Dates
| | | |
| --- | --- | --- |
| Year | Date | Day |
| 2024 | February 9 | Friday |
| 2025 | February 9 | Sunday |
| 2026 | February 9 | Monday |