National Chicken Wing Day is celebrated annually on July 29th. Whether you like your chicken wings fried, baked, or grilled; plain, spicy, or with a combination of different toppings and sauces, this is the day for all chicken wing lovers to celebrate this iconic dish.
Established in 1977 by Buffalo mayor Stan Makowski, National Chicken Wing Day is observed by millions of Americans every year. You can celebrate this food holiday by making chicken wings and eating them with family and friends. This is the very day to get experimental and try new chicken wing recipes.
National Chicken Wing Day will be celebrated on Monday, July 29, 2024.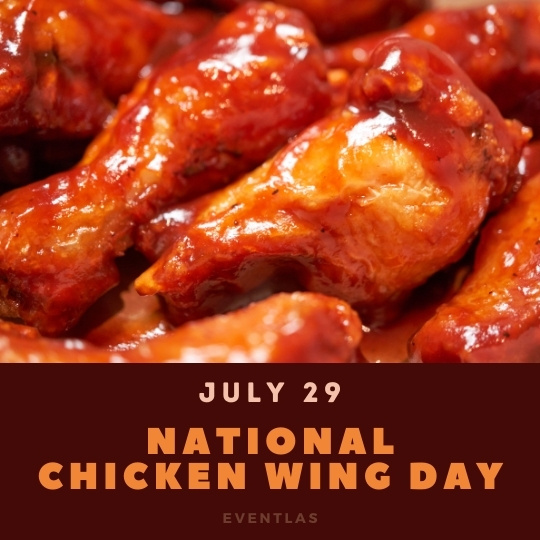 Honey Garlic Chicken Wings Recipe
You can try this delicious recipe on National Chicken Wing Day.
Chicken Wings Ingredients
2 pounds of chicken wings

1-2 teaspoons salt

2 teaspoons grounded black pepper

1/3 cup flour

1 tablespoon cooking oil
Honey Garlic Sauce Ingredients
½ cup honey

3 tablespoons soy sauce

2 tablespoons minced garlic

1 tablespoon grated fresh ginger

½ teaspoon chili flakes

1 teaspoon corn starch

¼ cup water
Directions
Preheat the oven to 400 degrees F. In a large bowl mix together chicken wings, salt, black pepper, vegetable oil, and flour. Let sit for a few minutes.
Line a baking tray with parchment paper. Arrange chicken wings on the baking tray. Bake for 35 to 40 minutes turning them at 20 minutes.
Add honey, soy sauce, chili flakes, water, corn starch, ginger, and garlic in a medium saucepan. Bring the ingredients to a rapid boil over medium-high heat. Simmer on reduced heat, stirring occasionally, for about 6-8 minutes or until slightly thickened. Remove the saucepan from heat and set aside.
When the wings are done, take them out of the oven and quickly place in a bowl. Pour the honey garlic sauce on the top while still hot. Toss the wings until they are properly coated.
Fried BBQ Chicken Wings Recipe
Amazing recipe to try on National Chicken Wing Day.
Related Events