National Chocolate Chip Cookie Day is celebrated annually on August 4 in the United States. This day gives us an opportunity to celebrate America's favorite cookie. You can observe National Chocolate Chip Cookie Day by baking a batch or two of cookies and sharing them with friends. Many bakeries offer discounts on this day so grab some cookies from your favorite bakery.
National Chocolate Chip Cookie Day will be celebrated on Friday, August 4, 2023.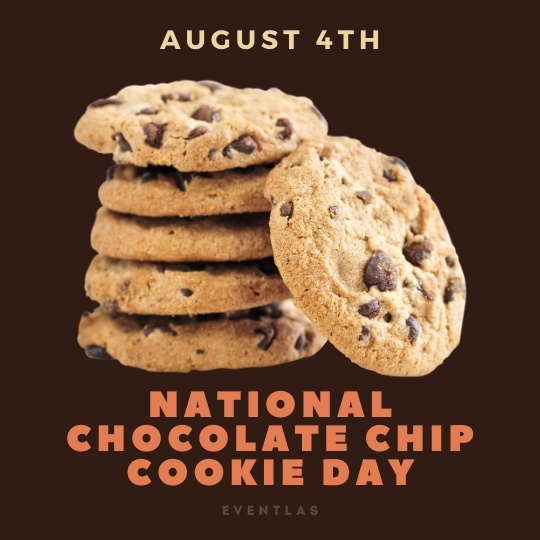 Chocolate Chip Cookies Recipe
You can bake cookies at home following this recipe on National Chocolate Chip Cookie Day.
Ingredients
1 cup softened butter

3 cups sifted all-purpose flour

2 cups chocolate chips

1 cup white sugar

1 cup packed brown sugar

2 large eggs

2 teaspoons pure vanilla extract

½ teaspoon baking powder

1 teaspoon baking soda

2 teaspoons hot water

½ teaspoon salt
Directions
Preheat oven to 350 degrees F. Line a baking tray with parchment paper and set aside.
In a large bowl cream together butter, brown sugar, and white sugar until combined and no lump remains. Beat in the eggs and vanilla extract until fluffy. Mix baking soda in hot water and add it to the prepared mixture. Mix in sifted all-purpose flour, salt, baking powder, and chocolate chips with a spoon until combined.
Drop by large spoonfuls on the baking pan lined with parchment paper. Bake in the preheated oven for some 8-10 minutes or until the edges are starting to turn brown. Let them sit on the cookie sheet for 5 minutes before transferring to a wire rack to cool.
Mouth-watering Recipe
Here is how you can make the best cookies on National Chocolate Chip Cookie Day.
Related Events