National French Fry Day is celebrated annually on July 13th across the country. This day recognizes and provides an opportunity to celebrate one of the most popular snacks in the United States. You can observe this national food holiday by eating French fries. This is the day to try various kinds of French fries, either plain or with different seasonings, sauces, toppings, or dips. You can also arrange a party dedicated to this delicious treat and enjoy French fries in different shapes and combinations with your friends.
National French Fry Day will be celebrated on Thursday, July 13, 2023.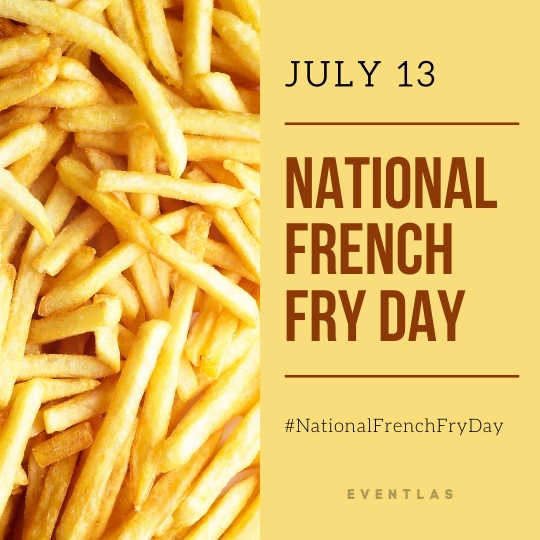 Crispy Spicy French Fries Recipe
You can try this recipe on National French Fry Day.
Ingredients
2 ½ pounds russet potatoes

Water as needed

1 cup all-purpose flour

1 teaspoon onion salt

1 teaspoon garlic salt

1 teaspoon paprika

1 teaspoon salt

2 teaspoons chili sauce

1 teaspoon black pepper

2 cups vegetable oil for frying, or as needed

Optional: Seasonings of your choice (cayenne pepper, black pepper, salt, onion salt, chili powder, garlic powder, etc)
Directions
Peel, rinse, and cut the potatoes into evenly sized strips. Place them into cold water. For best results allow them to soak for at least two hours. Heat oil in a skillet.
Sift the flour, onion salt, garlic salt, paprika, black pepper, and salt into a large bowl. Add chili sauce. Using a spatula or a spoon, stir in enough water so that the mixture can be drizzled from a spoon.
Take potato slices out of the water, dip them into the batter, and fry in the hot oil. Fry until crispy, then remove from the skillet using a slotted frying spoon and drain on paper towels. You can sprinkle with seasonings of your choice.
How to Make Perfect French Fries at Home
Related Events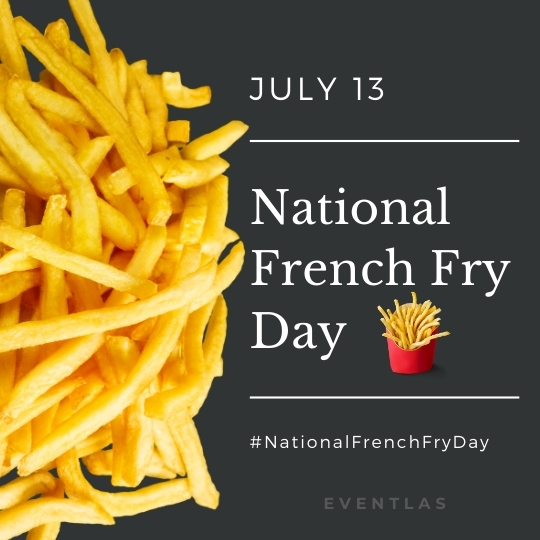 National French Fry Day Dates
| | | |
| --- | --- | --- |
| Year | Date | Day |
| 2023 | July 13 | Thursday |
| 2024 | July 13 | Saturday |
| 2025 | July 13 | Sunday |