National Cookie Day is an annual observance that takes place on December 4 in the United States. The word cookie is derived from the Dutch word koekje meaning little cake. Matt Nader of Blue Chip Cookies, a smallish company out of San Francisco, created cookie day in 1987. National Cookie day provides an opportunity to celebrate this delicious goodness. You can celebrate this day by baking a batch of cookies or getting some from your local bakery. Don't forget to post on social media to let others know about #NationalCookieDay. Also, share these sweet treats with your friends and family.
National Cookie Day will be celebrated on Monday, December 4, 2023.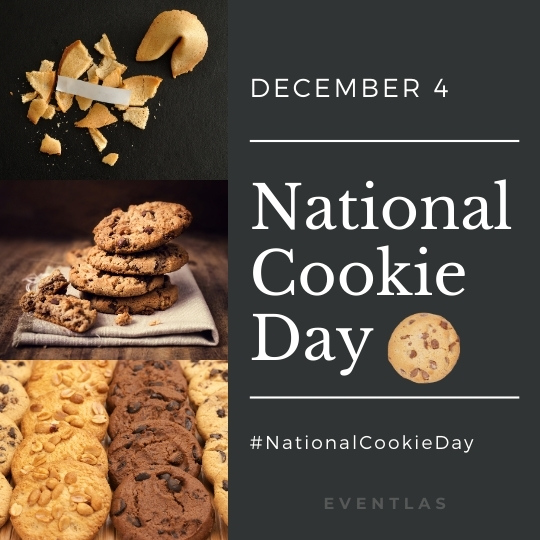 Fortune Cookies Recipe
Writing amusing fortunes, eating cookies, and reading the fortunes can be an interesting family activity for National Cookie Day. So, here is how you can make fortune cookies at home.
Ingredients
2 large egg whites

½ cup all-purpose flour

1 tablespoon melted butter

½ teaspoon vanilla extract

½ cup white sugar

1 pinch salt

3 tablespoons water
Directions
Preheat the oven to 400 degrees F. Line two baking trays with parchment paper. Write fortunes on strips.
In a medium bowl, whisk together egg whites and vanilla extract for about 1-2 minutes until foamy. Sift in the flour, sugar, and salt and mix gently but thoroughly into the batter. Add melted butter and water one tablespoon at a time. Mix until all ingredients are incorporated.
Place tablespoonfuls of batter on a baking tray 4-5 inches apart. Spread out the batter into 3 inches round shape. Bake for about 6-7 minutes, until the edges start to brown slightly.
Working quickly, remove the cookies from the pan while they are still hot. Add fortune strips in the middle and fold the cookies in half, into a semicircle. Place the flat side on the rim of a measuring cup and pull the pointed edges down into a fortune cookie shape.
Place the prepared fortune cookies in a muffin tin to cool and hold their shape. Repeat with the remaining batter.
Soft and Chewy Oatmeal Raisin Cookies Recipe
Related Events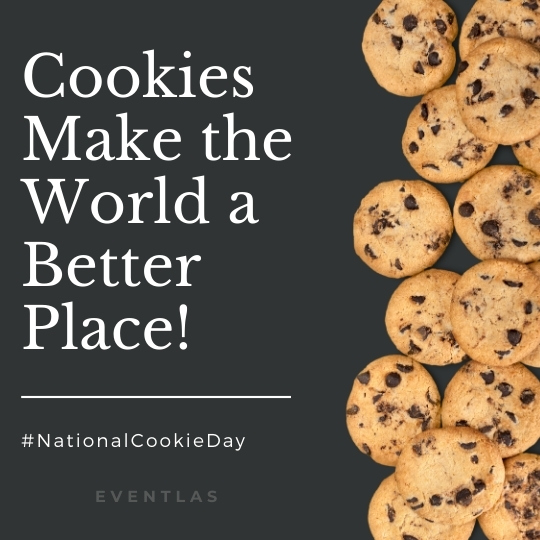 National Cookie Day Dates
| | | |
| --- | --- | --- |
| Year | Date | Day |
| 2023 | December 4 | Monday |
| 2024 | December 4 | Wednesday |
| 2025 | December 4 | Thursday |