The 11th Annual Phoenix Festival of the Arts
Start Date
Saturday, December 9, 2023
End Date
Sunday, December 10, 2023
Event Location
Margaret T. Hance Park
67 W Culver St, Phoenix, AZ 85003, United States
Hours
10 am – 5 pm on both festival days.
Admission
Admission to the Arts Festival is free.
Organizer
Phoenix Center for the Arts
Contact
Phone:

(602) 254-3100

Email:

coordinator@phoenixfestivalofthearts.org

Mailing address:

Phoenix Festival of the Arts


Attn: Festival Chair – 1202 N 3rd Street, Phoenix, AZ 85004
Website
https://phoenixfestivalofthearts.org/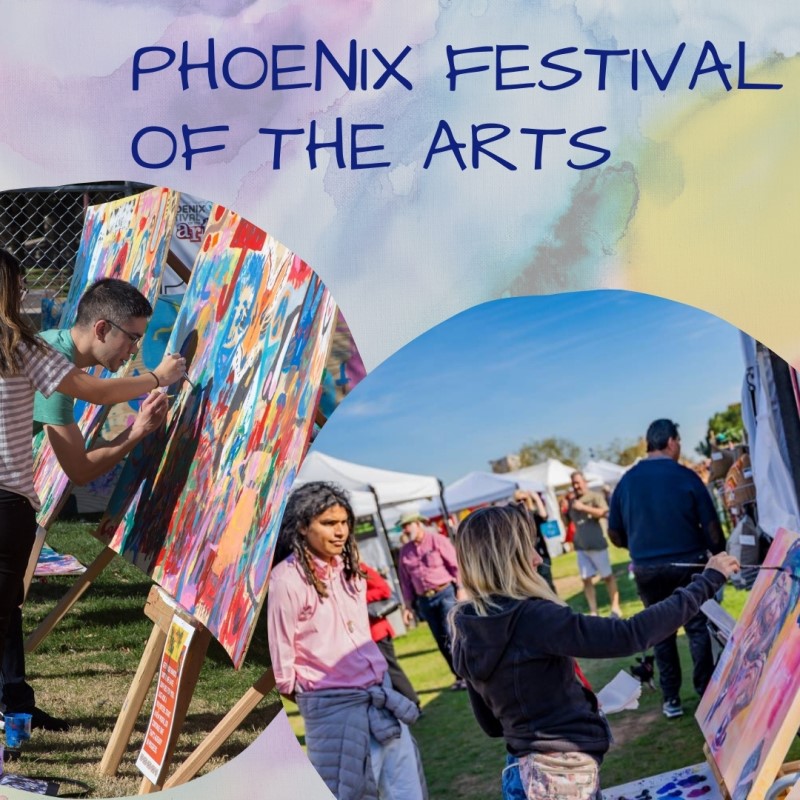 About the Festival
Phoenix Festival of the Arts is a weekend of free arts and cultural activities, held each December in Hance Park. Presented by Phoenix Center for the Arts, this community event features over 150 art vendors, local music, crafts, shopping, and food trucks.
You can also participate in the festival's signature community art project, where community members get to paint and create alongside professional local artists.  There are also free fun activities like training with the circus, coloring, etc at "Family Zone" presented by the Phoenix Center for the Arts. In essence, it is an opportunity to bring friends and family out to connect with Phoenix's local art community.
Everyone has a chance to be part of the Phoenix Festival of the Arts with an array of family-friendly art activities and games for both kids and adults. The festival also features circus performances, art demonstrations, an entertainment pavilion, dance ensembles, spoken word poets, and choral groups. In 2023, the two-day Phoenix Festival of the Arts will take place on Saturday, December 9 and Sunday, December 10.
Related Events