Start Date
Wednesday, October 18, 2023
End Date
Saturday, October 21, 2023
Event Location
159 East Franklin Street, Circleville, OH 43113, United States
And streets of Downtown Circleville.
Admission
Admission to the Pumpkin Show is free.
Parking
Free public parking is available on the streets of Circleville surrounding the annual show. Fees may apply if you park at private parking lots.
Hours
10 AM to 10 PM daily
Contact
Phone:

(740) 474-7000

Email:

info@pumpkinshow.com
Social Media Profiles
Twitter:

twitter.com/pumpkinshowinc

Facebook:

fb.com/circlevillepumpkinshowinc
Website
About The Circleville Pumpkin Show
The Circleville Pumpkin Show is held each fall on the third Wednesday through Saturday in October. The event takes place at the Pumpkin Show Park located in the middle of historic downtown Circleville. The first show was a single-day event in 1903, initiated by George Haswell(Mayor of Circleville) to bring the country and city folks together. It has since grown to become one of the most popular events that attracts over 400,000 visitors to this town with a population of 14,000 people.
Circleville Pumpkin Show is a family-friendly event that features pumpkins, pumpkin pies, pumpkin donuts, parades, rides, contests, entertainment, and lots of fun. In 2023, the four-day Circleville Pumpkin Show will be held from Wednesday, October 18 to Saturday, October 21.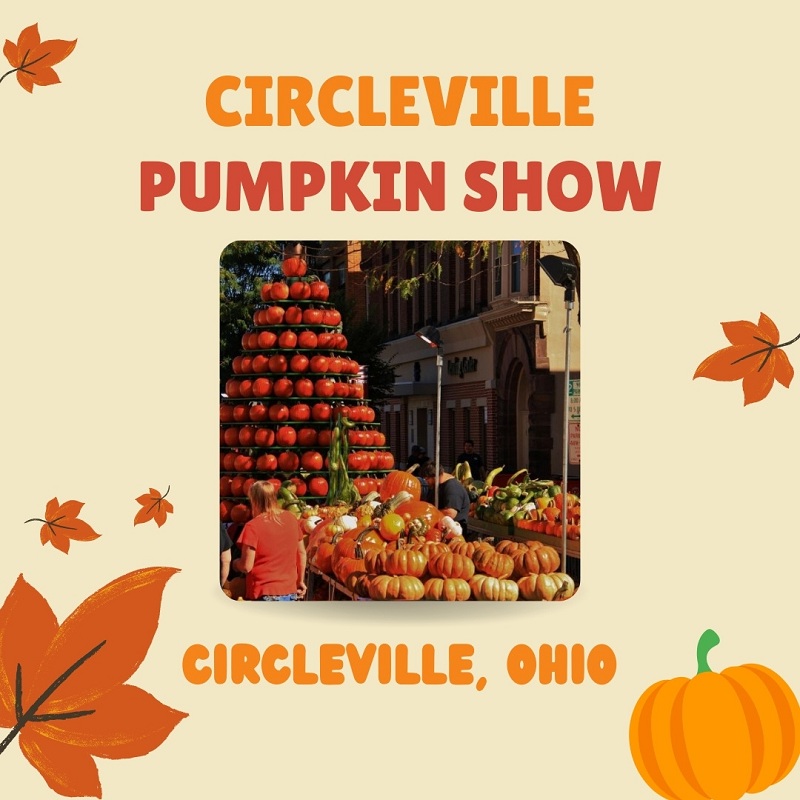 Related Events