Like other parts of the world, Muslims in Australia annually celebrate Eid-ul-Adha on 10th DhulHijjah. Eid festivities continue for two more days i.e. till 12th DhulHijjah.
Eid-ul-Adha commemorates Prophet Ibrahim's(AS) willingness to sacrifice his young son Ismael(AS) for Allah SWT. On Eid, many Muslims sacrifice a ritually acceptable animal and then divide two-thirds of the meat among the poor, friends, and relatives, and keep up to one-third for themselves. According to most Islamic schools of thought, animals can be sacrificed from 10th DhulHijjah to 12th DhulHijjah. However, a few scholars believe that the dates for offering a sacrifice are from 10th DhulHijjah to 13th DhulHijjah. Nonetheless, according to Islamic teachings, it is preferred to slaughter one or more animals on the first day of Eid(10th DhulHijjah).
Eid-ul-Adha is also commonly known as Eid-al-Kabir, Kurban Bayram, Bakra Eid, Greater Bayram, and Eid-al-Adha. It is a sacred observance among Muslims and people observe it by offering Eid prayers, visiting the graves of their deceased relatives, meeting and greeting others, and cooking meat dishes.
In 2024, Eid-ul-Adha in Australia will be observed from Tuesday, 18 June to Thursday, 20 June.
Dates may vary according to moon sighting.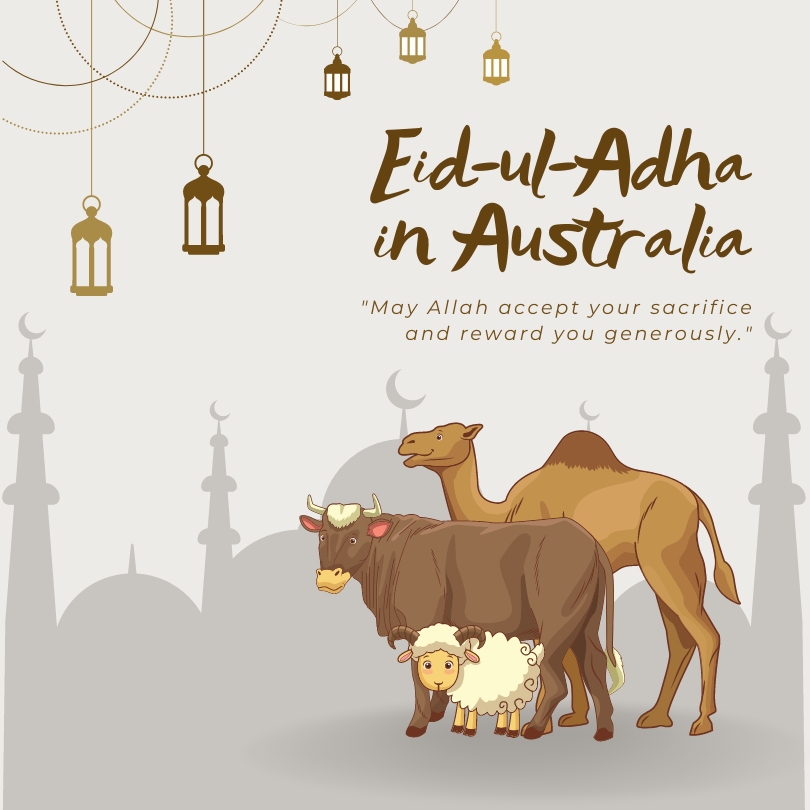 Eid-ul-Adha Wishes & Messages
This Eid-ul-Adha, may Allah grant you and your loved ones Barakah, Rahmah, Khair, Aafiah, and all the His blessings.
Hoping your Eid Day is loaded with plenty of happiness, laughter, and memorable moments with your family.
May Allah SWT provide His forgiveness and divine blessings in return for your sacrifice. Eid Al Adha Mubarak!
On this auspicious and sacred occasion, May Allah accept your sacrifice and reward you generously.
This Eid, sending your way my best wishes, lots of prayers, immaculate joy, happiness, and smiles.
On this Eid al-Adha, wishing you and your loved ones all the happiness that your heart can store.
May Allah reward all our Muslim brothers and sisters abundantly for their holy sacrifice. Aameen.
May the Almighty grace you and your family with His heavenly blessings. Happy Eid-ul-Adha!
I Hope the magic of Eid-al-Adha brings you plenty of happy moments and laughter. Eid Mubarak!
Wishing you and your loved ones Eid-ul-Adha filled with Happiness, joy, love, hope, and peace.
Once again, Allah has blessed us with this festival of sacrifice and unwavering faith. Eid Mubarak to you and your family!
Related Events