Like other countries, Muslims living in the USA celebrate Eid-ul-Adha every year. This event is observed during the twelfth Islamic month i.e. DhulHijjah. Muslims across the globe celebrate Eid-ul-Adha from 10 DhulHijjah to 12 DhulHijjah. The corresponding Gregorian calendar dates may vary from one country to another. This is because the new month in the Islamic calendar(also called Lunar Calendar) is marked by the sighting of the new moon, which can vary from one location to another.
Eid-ul-Adha is a commemoration of Prophet Ibrahim's willingness to sacrifice his young son Ismael for Allah. Muslims who can afford to sacrifice a ritually acceptable animal, do so and then divide two-thirds of meat among the poor, friends, and relatives, and keep up to one-third for themselves. Although a person can perform a sacrifice on any of the three Eid Days(four according to a few scholars), but most prefer to do it on the first day i.e. 10th DhulHijjah.
Eid-ul-Adha is also commonly known as Eid-al-Kabir, Eid-al-Kurban, and Kurban Bayram. Other names include Id-ul-Azha, Bakra Eid, Greater Bayram, and Eid-al-Adha. On this occasion, people offer prayers, meet and greet others, and cook meat dishes.
In 2024, Eid-ul-Adha will be observed in the United States from Monday, June 17 to Wednesday, June 19.
Dates may vary according to moon sighting.
Eid-ul-Adha Wishes & Messages
On this auspicious occasion, may Allah shower Rahmah upon you and your loved ones.
I wish you and your family a very joyful Eid and pray that our hearts lighten up with the observance of Sunnat-e-Ibrahimi.
May all your wishes come true and all your prayers be granted on this Eid-ul-Adha.
Feel the magic of Eid around you and cherish every moment of this beautiful festival!
I hope this holy, blessed, and joyful event brings Muslims across the world closer to each other.
May this holiday bring health, happiness, blessings, love, peace, and prosperity for everyone.
May Allah's countless blessings shine upon you and your loved ones, Eid-ul-Adha Mubarak!
Finally, it is that time of the year and Eid is here, but don't eat too much meat :).
On this day the prayers are granted and I pray that next year we all perform Hajj and celebrate Eid together in Makkah.
May this Eid-al-Adha bring lots of love, happiness, peace, and smiles for everyone in the USA and the rest of the world.
During this wonderful time of the year, I wish you and your loved ones the best of both worlds, Eid Mubarak!!
It's not about the meat, but our passion to sacrifice and please God on this holy day matters the most.
Be happy, delighted, and cheerful cuz it's Eid-ul-Adha!!!
May Allah's blessings knock at your door and you have a happy and blessed Eid-ul-Adha!
Wishing you a bright, happy, and festive Eid-al-Adha!
Wishing a very happy Eid to all the Muslims living in the USA and beyond.
May Allah accept your Hajj and sacrifice and grant all your wishes.
Here's to hoping that Eid-ul-Adha brings your family health, wealth, happiness, prosperity, and lots of love.
May this wonderful and holy event strengthen your faith in Allah and you have a great time ahead!
May God bless you and your loved ones with health, happiness, peace, and His countless blessings. Happy Eid-al-Kabir!
Sending my best wishes, lots of prayers, happiness, and smiles your way on this Eid-al-Adha.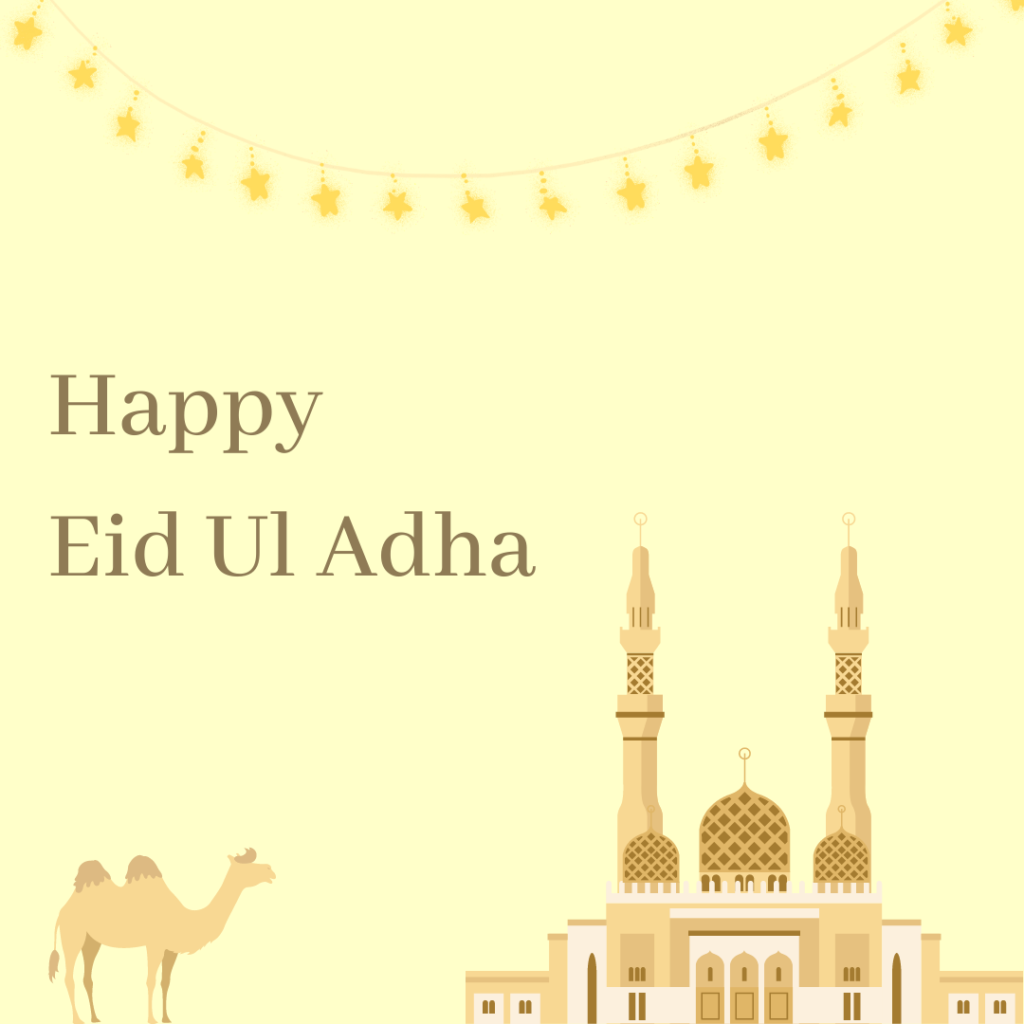 Related Events