Muslims across the world celebrate Eid-ul-Adha for three days from 10th DhulHijjah to 12th DhulHijjah(12th Islamic month). Muslims living in Canada celebrate this event every year with great enthusiasm.
Eid-ul-Adha is also known as Eid-al-Qurban, Eid-al-Kabir, Bari Eid, Eid-al-Baqara, Bakra-eid, Kurban Bayram, and Greater Bayram. It is celebrated to commemorate the sacrifice and courage of Prophet Ibrahim and Prophet Ismail. During the Eid festival, people who can afford to sacrifice one or more animals(goat, sheep, cow, or camel) do so. Afterward, most of the meat is distributed among others. People also meet and greet others, cook meat dishes, and offer prayers.
In 2024, Eid-ul-Adha will be celebrated in Canada from Monday, June 17 to Wednesday, June 19.
Dates may vary according to moon sighting.
Related Posts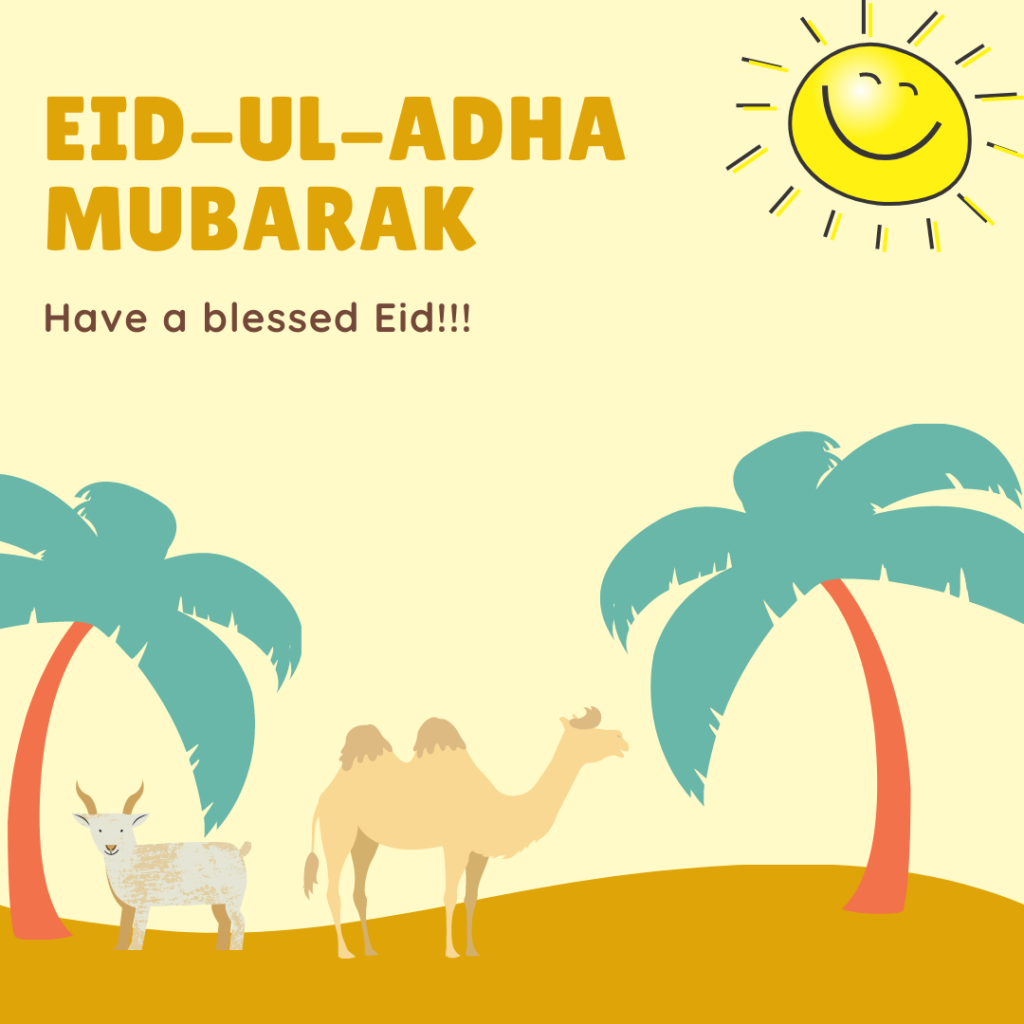 Eid-ul-Adha Wishes & Messages
May the magic of this Eid bring lots of happiness in your life. Please accept my good wishes.

It is a time for joy. Have a great time!

May Allah Almighty accept your sacrifice and bless you with health, wealth, and prosperity in your life. Eid-ul-Adha Mubarak!

I pray that your prayers are answered and sacrifices accepted. Have a wonderful holiday.

May Allah's blessings bring happiness, love, health, peace, and prosperity.

On this special occasion, I pray that may Allah bless the entire humanity. Have a joy-filled Eid.

May God bring you hope, happiness, peace, and prosperity on this blessed occasion.

Today I pray that happiness stays at your door and that it knocks early and stays late. I wish you an incredible Eid-ul-Adha.

May this blessing of Allah fill your life with pleasure and open the doors of success for you. Eid Mubarak and have a great one!

May this special day bring happiness and prosperity to everyone. Eid-al-Adha Mubarak.

Sending you warm wishes on Eid-ul-Adha and wishing that it brings your way health and happiness. Have a great holiday.

May this auspicious occasion bring good tidings for you and your loved ones. Eid-ul-Adha Mubarak to you and your family!

I wish peace, prosperity, and an abundance of joy in your life. May Allah bless you immensely.

May you have a wonderful Eid filled with moments you'll always remember. Stay blessed.

We make a living by what we get but we make a life by what we give. Please remember the poor & hungry on this occasion.

May your world be filled with warmth on this Holy occasion, we wish you a joy-filled Eid-ul-Adha.
Related Events