Start Date
Tuesday, June 6, 2023
End Date
Saturday, June 10, 2023
Fair Location
State Rte 4, Carlinville, IL 62626, United States
Contact
Phone:

(217) 854-9422

Email:

info@macoupincountyfair.org

Mailing Address:

P.O. Box 145, Carlinville, IL 62626
Website
https://www.macoupincountyfair.org/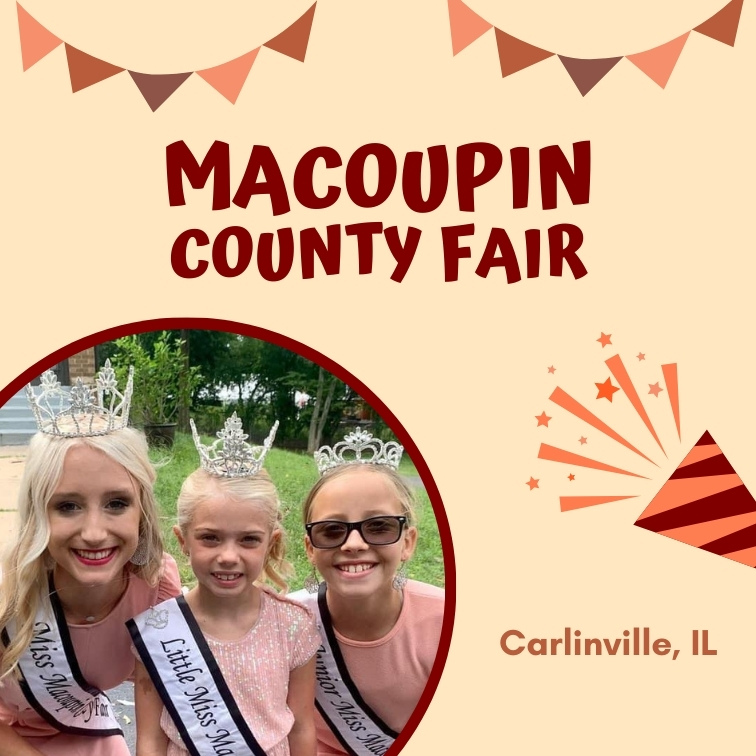 About the Fair
Macoupin County Fair is annually held at the fairgrounds on State Route 4 in Carlinville, Illinois. The fair's earliest roots date back to 1852. The first event was a small "meet" at the Carlinville Public Square.
By 1860, a permanent site of 22 acres was acquired at the northwest corner of Carlinville to hold the annual event. With occasional interruptions, the fair was an annual event till 1929; but it failed to survive the crash of '29. In 1938, after eight years of depression, a dedicated group of residents organized a new fair board and the fair was revived in downtown Carlinville. The old grounds had been lost and the fair was held at different locations for over a decade. The need for a permanent home was urgently felt and the county board leased 25 acres of county-owned ground(one mile north of Carlinville) to the fair board in 1951. The fairgrounds land has since been increased to 40 acres and the fair has grown manifold.
Macoupin County Fair is a family-friendly event that offers lots of fun, entertainment, and interesting activities for everyone. The fair features livestock, exhibits, a kids' corner, pageants, karaoke contest, demolition derby, tractor pulls, carnival, live music, food, and more. In 2023, the five-day Macoupin County Fair will take place from Tuesday, June 6 to Saturday, June 10.
Related Events