Like other parts of the world, Muslims in the United Kingdom annually celebrate Eid-ul-Adha on 10th DhulHijjah(12th month in the Islamic calendar). Eid festivities continue for two more days till 12th DhulHijjah.
On Eid-ul-Adha Muslims sacrifice a ritually acceptable animal to commemorate Prophet Ibrahim's(AS) willingness to sacrifice his young son Ismael(AS) for Allah SWT. On this holy occasion, people also offer Eid prayers, meet and greet others, visit the graves of their deceased relatives, and cook meat dishes. Other names of Eid-ul-Adha include Eid-al-Kabir, Kurban Bayram, Bakra Eid, Greater Bayram, and Eid-ul-Azha.
In 2024, Eid-ul-Adha in the UK will be celebrated from Monday, June 17 to Wednesday, June 19.
Dates may vary according to moon sighting.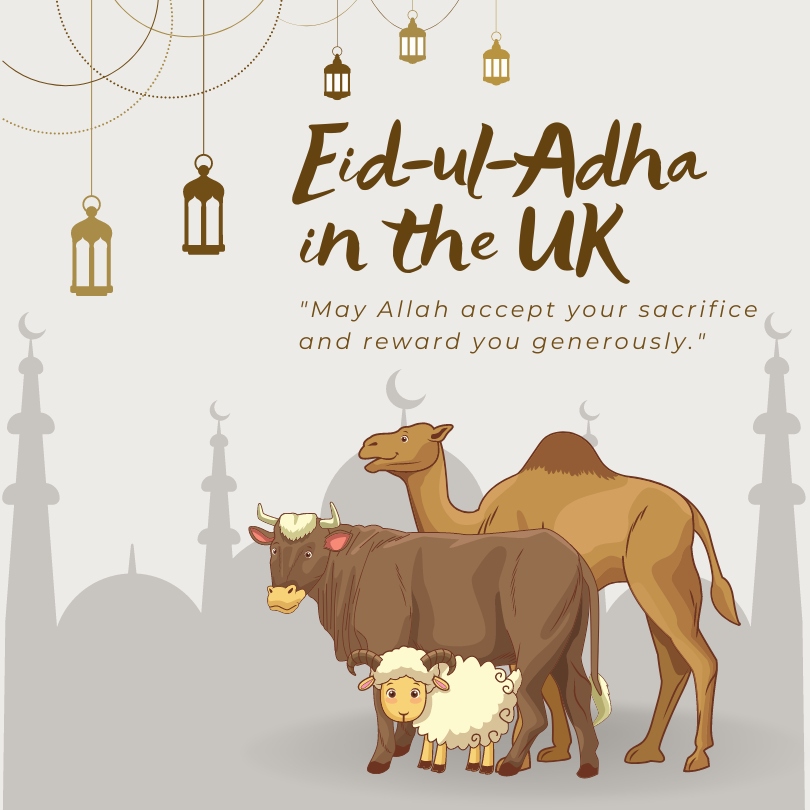 Eid-ul-Adha Wishes & Messages
May Allah grant your prayers and reward you generously for your sacrifice. Wishing you and your loved ones a joyous, blessed, and fun-filled Eid-ul-Adha.
Let this Eid be an occasion for sharing love, blessings, fun, and happiness with your family. Have a great one my friend.
May Allah show His divine forgiveness and fill your life with abundant happiness. Eid-al-Adha Mubarak to you and your family.
Hoping this Eid shines your path and brings happiness in your life that stays with you forever.
On this sacred occasion, I pray that Allah showers you and your family with His love, blessings, and Mercy. Happy Eid Al-Adha.
Wishing you and your family everlasting happiness, health, love, and warmth on this Eid day.
May this Eid-al-Kabir brings you and your family abundant, everlasting, and booming joy. Have a wonderful one!
Eid Mubarak! May Allah's (SWT) commands and Prophet's (PBUH) teachings remove the impurities of our souls and guide us to the path of the Almighty.
We celebrate this day to commemorate Hazrat Ibrahim's (A.S.) willingness to sacrifice his son Ismail (A.S.) for God.  May the guidance of Islam and the teachings of the Prophet (PBUH) lead us to the divine path of peace, sacrifice, and humanity.
Related Events