The 33rd Annual Fellsmere Frog Leg Festival
Start Date
Thursday, January 18, 2024
End Date
Sunday, January 21, 2024
Event Venue
Old School Complex on the corner of CR 512 and Broadway Street
Address: 22 S Orange St, Fellsmere, FL 32948, United States
Hours
Thu, Jan 18:

4 pm – 8 pm

Fri, Jan 19:

4 pm – 8 pm

Sat, Jan 20:

11 am – 8 pm

Sun, Jan 21:

11 am – 8 pm
Admission
Admission is free.
Parking
Parking is free. There will also be a free shuttle bus service from the parking area at Mesa Motocross Park to the festival … and back.
Contact
Phone:

772-571-3022

Facebook:

fb.com/fellsmerefroglegfestival

Email:

froglegfestival@gmail.com, info@froglegfestival.com

Mailing Address:

P.O. Box 67 Fellsmere, FL 32948
Website
https://www.froglegfestival.com/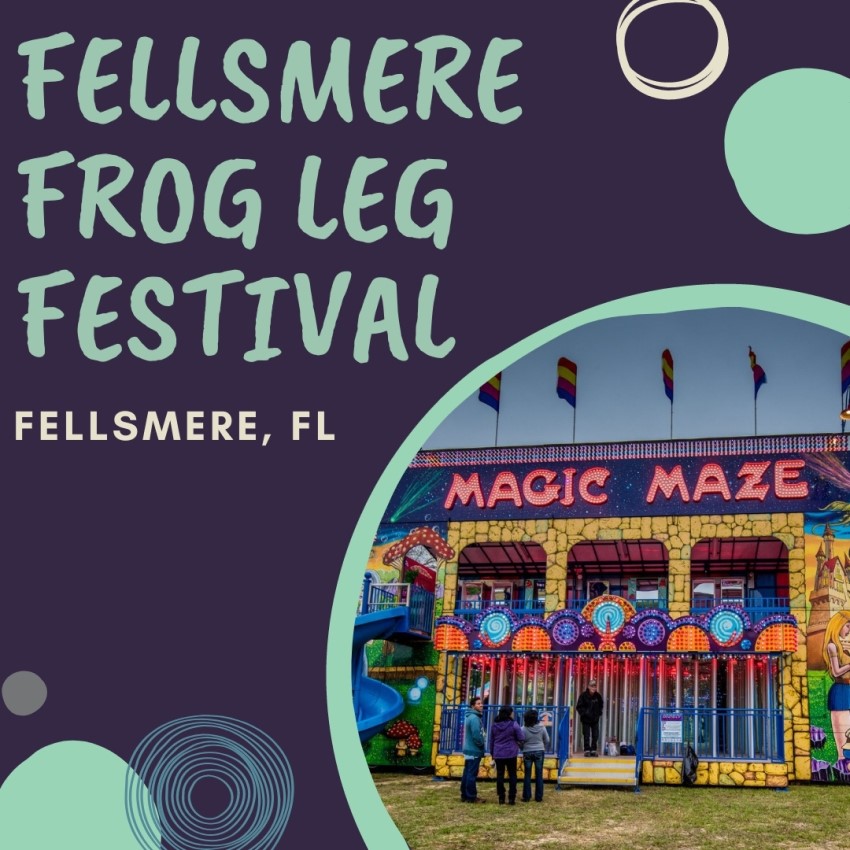 About the Fellsmere Frog Leg Festival
Frog Leg Festival is a family-friendly event that annually takes place at Old School Complex in Fellsmere, Florida. The Fellsmere Frog Leg Festival holds 2 Guinness Book World Records i.e. for the most frog legs served in one business day and the largest Frog Leg Festival in the world!
Back in the year 1990, many members of the City of Fellsmere recreation committee showed concern regarding the lack of funding sources for the recreational needs of the children of Fellsmere. The unique Frog Leg Festival was a result of that concern of the recreation committee members. The first festival was the brainchild of a small group of local residents who thought that frog legs being unique enough might attract visitors to the festival. So plans were made to sell frog leg dinners and frogs were caught from the surrounding marshes. The first festival was a great success as the organizers sold out every night of the festival.
With over 80,000 attendees and over 7,000 pounds of frog legs served each year, the Fellsmere Frog Leg Festival has come a long way from its humble roots. Amid the successful annual event, Fellsmere has been proclaimed Frog Leg Capital of the World. In addition to fried frog legs, the festival also features gator tails, other food items, homemade crafts, carnival rides, games, and more. In 2024, the four-day Fellsmere Frog Leg Festival will take place from Thursday, January 18 to Sunday, January 21.
Related Events