Start Date
Friday, August 18, 2023
End Date
Monday, September 4, 2023
The Fair will be closed on Tuesdays and Wednesdays(8/22, 8/23 and 8/29, 8/30).
Event Location
Alaska State Fairgrounds
2075 Glenn Hwy, Palmer, AK 99645, United States
(Fairground is nestled in the heart of the Chugach Mountains, in the Matanuska-Susitna Valley; an hour's drive north of Anchorage at mile 40 on the Glenn Highway.)
Contact
Phone:

907-745-4827

Fax:

907-746-2699

Email:

info@alaskastatefair.org
Social Media Profiles
Twitter:

@AlaskaStateFair

Facebook:

@alaskastatefair

Instagram:

@officialalaskastatefair
Website
https://www.alaskastatefair.org/site/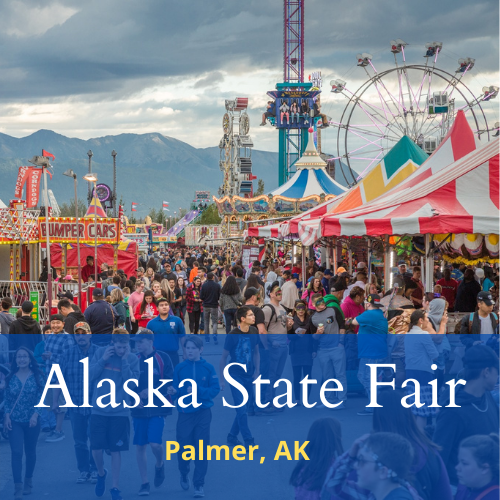 About the State Fair
Alaska State Fair is annually organized at the fairgrounds in Palmer. It is a family-friendly event that offers something for all ages. The fair features animals, exhibits, flower gardens, entertainment, rides, food, and lots of fun.
The Western Alaska Fair was first held in 1924 and lasted till 1929. In 1936 Matanuska Valley Agricultural and Industrial Fair Assn., Inc. was formed to organize an annual fair in Palmer. In February 1959, the Alaska State Fair, Inc. was incorporated as a private nonprofit corporation. In 1960, the then-presidential candidate John F. Kennedy visited the fair. In 1966, the Fair purchased 221 acres of land and in 1967 the event was held for the first time at its present location. In 2011, American Bus Association named the Alaska State Fair one of the top 100 events in North America. In 2012, Country Living magazine named this event one of the best state fairs in America. In 2023, the Alaska State Fair will take place from Friday, August 18 to Monday, September 4.
Related Events