54th Year of the Huntsburg Pumpkin Festival
Start Date
Saturday, October 7, 2023
End Date
Sunday, October 8, 2023
Event Location
Huntsburg Township, Geauga County, Ohio, United States
(At the intersections of State Routes 322 & 528)
Hours
10:00 am to 6:00 pm on both days.
Admission
Admission to the Pumpkin Fest is free.
Parking
Parking is free and there is a free shuttle service from the parking areas to the Festival grounds.
Contact
Phone:

‪(440) 561-6186‬

Email:

huntsburgpumpkinfestival@gmail.com

Mailing Address:

PO Box 242, Huntsburg, OH 44046
Website
https://www.huntsburgpumpkinfestival.com/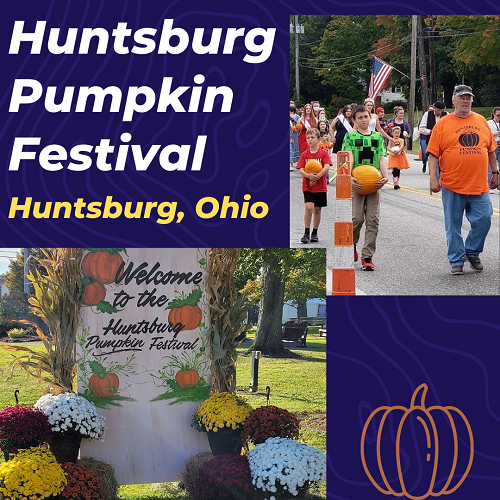 About the Pumpkin Fest
The Pumpkin Festival is annually held at Huntsburg Township in Geauga County. The festival was first held in 1969 and has become a popular destination for people from the State of Ohio and beyond. Huntsburg Pumpkin Festival is a family-oriented event that offers plenty of fun, contests, and activities for all ages in a friendly environment. The festival features food, parades, 4-mile run, pony rides, and more. In 2023, the two-day Huntsburg Pumpkin Festival will be held from Saturday, October 7 to Sunday, October 8.
Related Events