National Cheesecake Day is celebrated every year on July 30 in the United States. This day provides an opportunity to celebrate one of America's favorite desserts. There is no better way to celebrate this food holiday than indulging in this tasty delight without any guilt. You can bake a cheesecake at home or get one from your favorite bakery.
National Cheesecake Day will be celebrated on Sunday, July 30, 2023.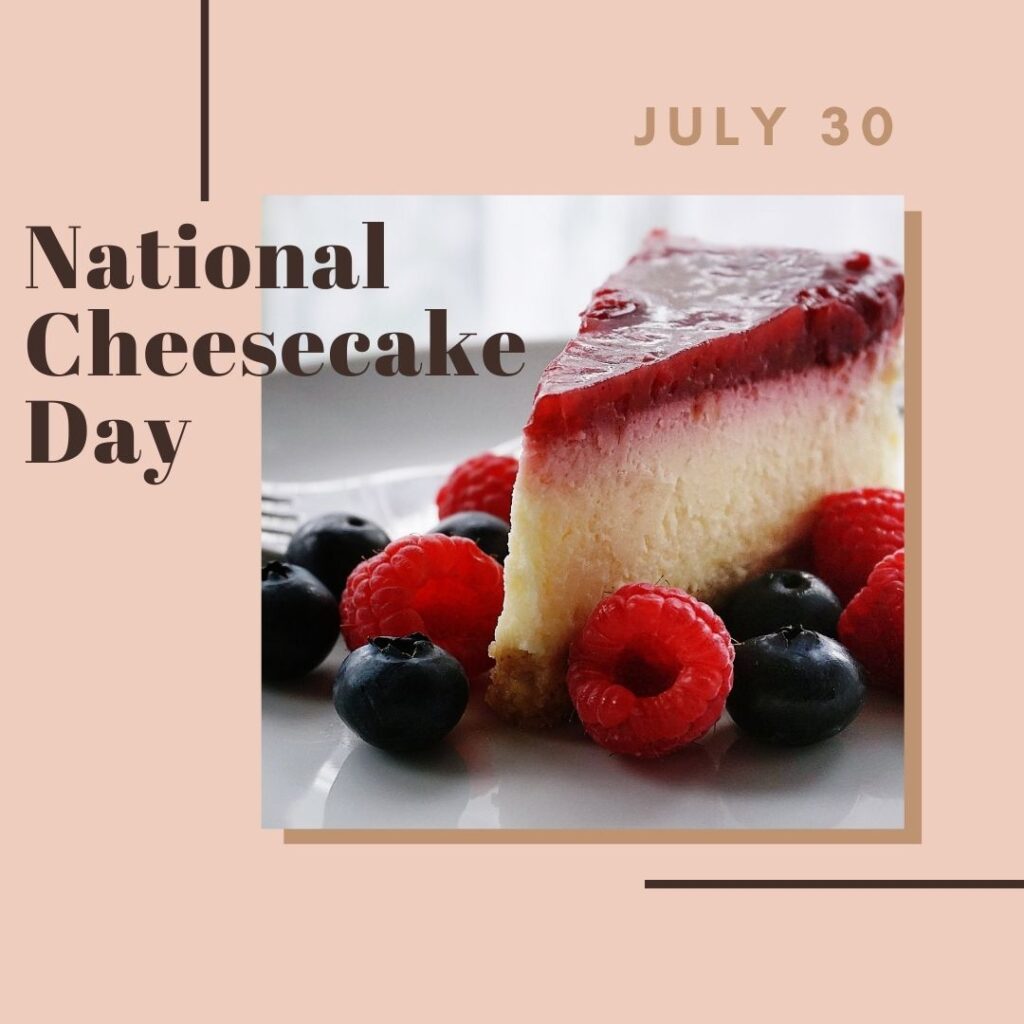 Cheesecake Trivia
The most expensive cheesecake was sold for $4,592.42 on October 30, 2017. It was made by chef Raffaele Ronca of the USA at Ristorante Rafele in New York city.
In 2017 the largest cheesecake ever recorded was made in Stavropol, Russia. The record was created by the Cheeseberry Company of Russia on the main square in Stavropol for the city's 240th birthday. It weighed 4,240 kg (9,347.60 lb) and measured 2.8 m (9 ft 2 in) in diameter, and 0.85 m (2 ft 9 in) tall.
Cheesecake Recipe
You can try this cheesecake recipe on National Cheesecake Day.
Ingredients
Cheesecake
Four 8-ounce cream cheese packs, softened to room temperature (32 ounces in total)

1 cup granulated sugar

2/3 cups sour cream

2 teaspoons vanilla extract

a pinch of salt

4 lightly beaten eggs, room temperature
Graham Cracker Crust
1 ½ cups graham cracker crumbs

3 Tablespoons sugar

5 Tablespoons butter, melted
Method
Preheat oven to 350 F.
Prepare Graham Cracker crust by combining the crust ingredients(crumbs, sugar, butter) in a large bowl. Stir thoroughly so the ingredients are well-mixed. Pour and press firmly the mixture into the bottom and up the sides of a 9-inch or 10-inch springform pan.
Pre-bake the crust for 8-10 minutes, or until lightly golden. Set aside.
Add cream cheese into a large bowl. Stir until smooth and add sugar. Cream together the two ingredients.
Add sour cream, vanilla extract, and salt to the mixture and stir until well-combined. Scrape the sides of the bowl as necessary.
Gradually add eggs, stirring just until each egg is just incorporated into the cream cheese mixture.
Pour cheesecake batter over the crust and spread evenly.
Place the springform pan filled with cheesecake batter into a larger pan. Carefully pour very hot water into the pan and place it in the oven.
Bake for 60-70 minutes or until the center is almost set. The center will still wobble a bit while the edges will be set.
Allow the cheesecake to cool for at least an hour. Cover the cheesecake and refrigerate for 5 hours or overnight. Add toppings and cut into slices for serving. Enjoy!
Related Events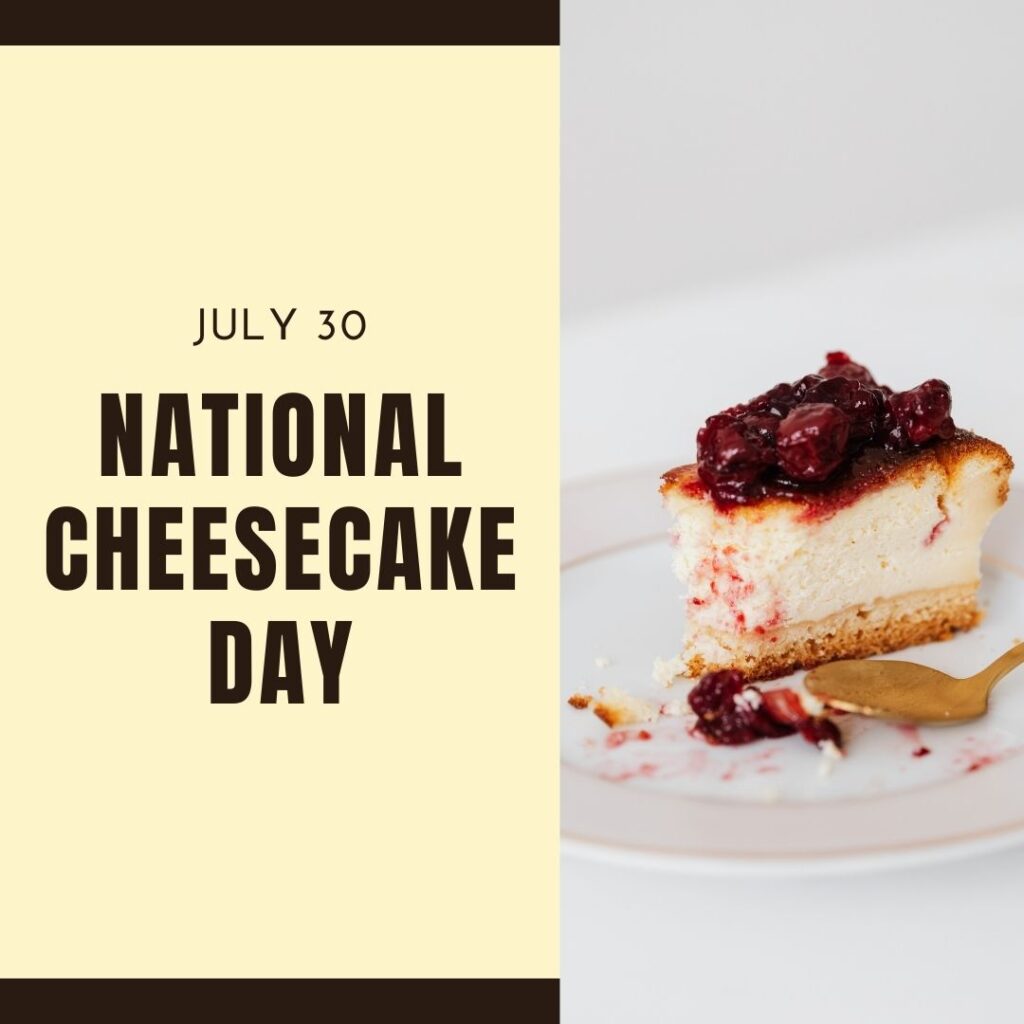 National Cheesecake Day Dates
| | | |
| --- | --- | --- |
| Year | Date | Day |
| 2023 | July 30 | Sunday |
| 2024 | July 30 | Tuesday |
| 2025 | July 30 | Wednesday |