National Lasagna Day is a celebration that takes place every year on July 29. This day is observed to celebrate America's favorite Italian pasta dish. You can celebrate National Lasagna Day by consuming a large amount of lasagna without any guilt. You can also prepare this tasty mealtime treat at home, host a lasagna party, try a new recipe, and get lasagna from your favorite Italian restaurant.
National Lasagna Day will be celebrated on Monday, July 29, 2024.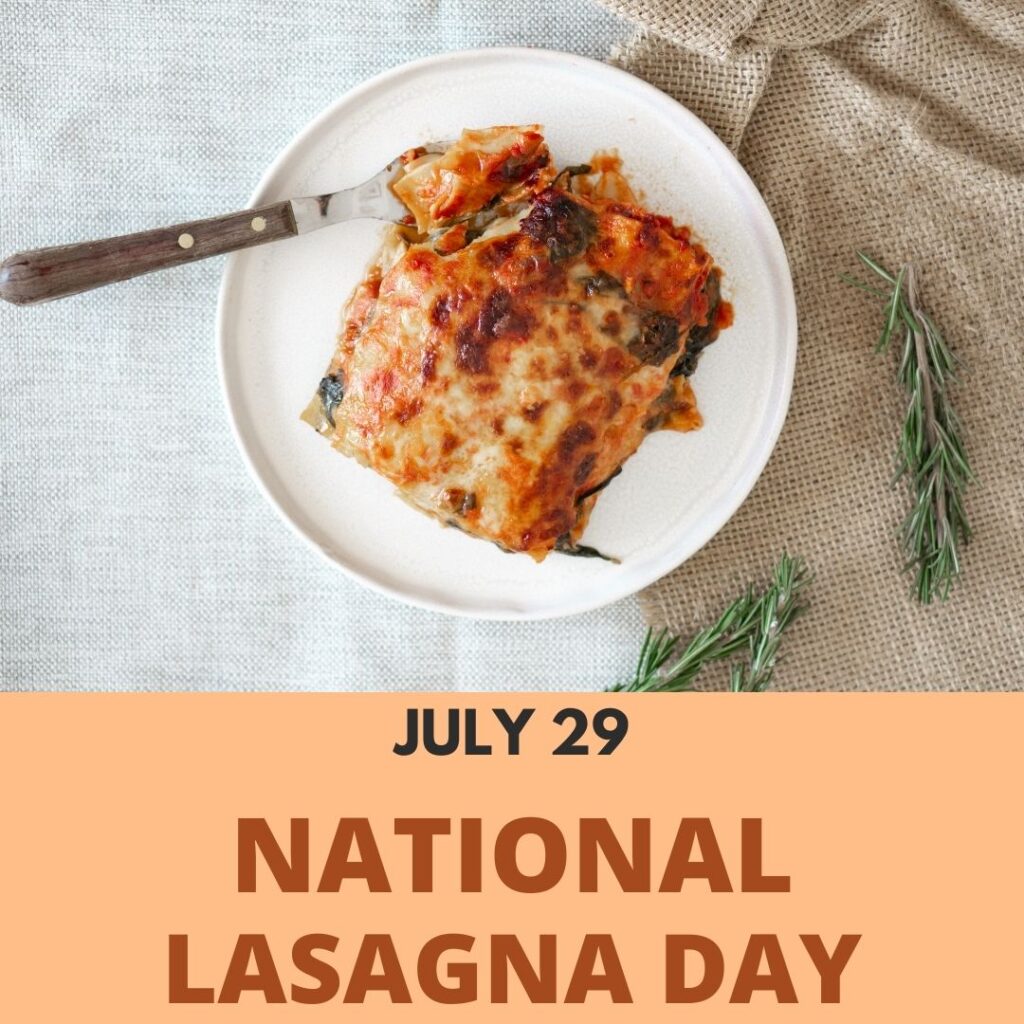 Homemade Lasagna Recipe
Here is how you can prepare this tasty dish at home for National Lasagna Day.
Ingredients
1 tablespoon olive oil

1 kg lean ground beef

12 lasagna noodles

4 cups crushed tomatoes

3 cloves garlic, crushed

2 finely chopped onions

2 cans tomato paste (6 ounces)

2 cans tomato sauce (6.5 ounces)

16 ounces ricotta cheese

1 pound mozzarella cheese, sliced

1 cup grated Parmesan cheese

½ cup water

2 teaspoons white sugar

1 ½ teaspoon dried basil leaves

1 ½ teaspoons salt, or to taste

½ teaspoon ground black pepper

½ teaspoon garlic powder

¼ teaspoon chili flakes

1 teaspoon Italian seasoning

5 tablespoons chopped fresh parsley

1 egg
Method
Heat oil in a large pot over medium heat. Add in ground beef, onion, and garlic. Cook until well browned. Add tomato sauce, tomato paste, crushed tomatoes, and water to the ground beef mixture. Season with Italian seasoning, basil leaves, 2 tablespoons parsley, garlic powder, sugar, chili flakes, 1 teaspoon salt, and pepper. Mix well to combine, cover and simmer over low heat for about 30 to 40 minutes until the meat is thoroughly tender, stirring occasionally.
If you are using fresh or no-cook lasagna sheets, you don't have to boil them. If you are using dried lasagna then bring a large pot of lightly salted water to a boil. Cook lasagna noodles in boiling water for 4 to 5 minutes. Drain noodles, and rinse with cold water.
In a separate bowl mix together ricotta cheese, egg, remaining parsley, and half teaspoon salt. Meanwhile, preheat the oven to 375 degrees F.
In a 9×13-inch casserole or lasagna dish, spread about one and a half cups of meat sauce on the base, then cover with half of the lasagna noodles. Spread half of the ricotta cheese mixture on it. Top with one-third of the mozzarella cheese slices. Top with the rest of the meat sauce and sprinkle one-third of the Parmesan cheese. Repeat layers of the remaining lasagna noodles, ricotta cheese mixture, mozzarella cheese slices, and Parmesan cheese. Tent lasagna with foil.
Bake in preheated oven for 30 minutes. Remove the foil, and bake for an additional 10 minutes. Let stand for 5 to 10 minutes before serving.
Did you know?
The largest lasagne weighed 4,865 kg. It was created by Magillo Restaurant and Macro Supermarket in Wieliczka, Poland on June 20, 2012.
Germany's Andre Ortolf ate the most lasagne in 30 seconds. He gobbled 410 grams of this Italian dish in Augsburg, Germany, on April 13, 2020.
The word lasagna is derived from the Latin word lasanum meaning chamber pot.
National Lasagna Day Hashtag
You can post about this food holiday on social media platforms using the hashtag #NationalLasagnaDay.
Related Events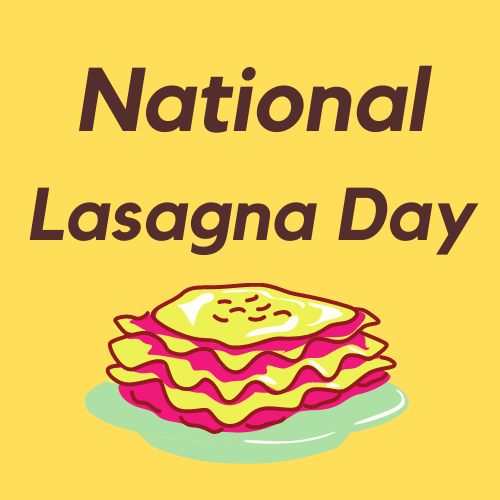 National Lasagna Day Dates
| | | |
| --- | --- | --- |
| Year | Date | Day |
| 2024 | July 29 | Monday |
| 2025 | July 29 | Tuesday |
| 2026 | July 29 | Wednesday |