Eid Milad-un-Nabi is celebrated every year on the 12th of Rabi-ul-Awwal(3rd Islamic month). Muslims observe this day with great zeal, devotion, and passion to mark the birth anniversary of Prophet Muhammad (SAWW). To celebrate Eid-e-Milad, people share sweets with each other, participate in processions, offer prayers, and remember the beautiful life of the Prophet (PBUH). They also recite and listen to naats.
Eid Milad-un-Nabi 2023 Date
Eid Milad-un-Nabi will be celebrated on Friday, 29 September 2023.
Dates may vary according to moon sighting.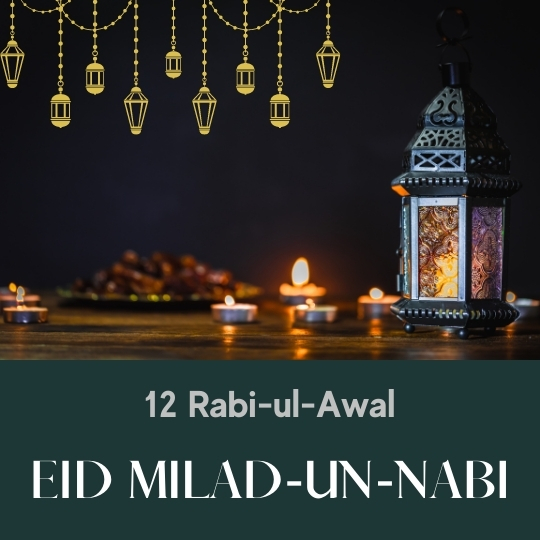 Eid Milad-un-Nabi 2023 Wishes and Messages
This is the most bright, most jubilant, and most cheerful day of the year. No other day makes us happier than Eid-e-Milad.
The whole universe smiled, angels were happy, all the Prophets(A.S.) were jubilant when Rehmatalil-Aalameen SAWW came into this world.
This is a great day because God Almighty blessed this world with the presence of the greatest being. Sending best wishes and felicitations for Milad-un-Nabi your way.
On this most auspicious occasion, I pray for your success, prosperity, health, and a wonderful life ahead. Have a great one this year and always.
The divine light of Khatamun-Nabiyeen shined brightly and brightened the whole world. Happy Eid-e-Milad-un-Nabi to you and your family.
May Allah grant us the strength to follow the righteous path RasoolAllah SAWW showed us. Please remember my family in your duas.
Today, let's thank Allah for His greatest gift to mankind and to the whole universe. Alhumdulilahi Rabbil Aalameen!
May you live a long and healthy life and celebrate 12th Rabi-ul-Awal every year with great fervour and devotion.
This is the time to celebrate the most delightful, wonderful, and joyous moments. I pray that God gives us the courage to forgive those who have wronged us and do kind acts for humanity.
May Almighty bless you with peace, prosperity, and joy on this wonderful occasion. Wishing you and your family a very happy and blessed 12th of Rabiul Awal.
No other morning can be as bright as this and no other night can be as shiny as this night because it is "the 12th".
May your heart be filled with happiness, joy, and goodwill on Eid Milad-un-Nabi, and you shine with love and gratitude to Allah and his Messenger SAWW.
The whole month of Rabi-ul-Awal is festive and joyous, so let's wish one another joy, love, and peace.
Let's celebrate Milad with a promise to follow the Sunnah and always be there for anyone who needs us. Many congratulations to you and your loved ones. Please remember us in your prayers.
Today we thank Allah for sending Prophet (PBUH) to guide us and pray that Allah gives us the strength to follow our Prophet (PBUH).
Today my heart is happy, my soul delightful, and my eyes cheerful. Eid Milad-un-Nabi Mubarak to you and your loved ones.
No one was and no one will ever be like Him (SAWW). Milad Shareef Mubarik to you all.
May Allah bless you with Ziyarat of Masjid-e-Nabvi in Madina Sharif and all your wishes be granted.
Let the spirit of love and kindness fill our hearts because it is 12 Rabi-ul-Awal. I extend heartfelt congratulations to you on this holy and spiritual occasion.
This is the greatest, happiest, loveliest, and brightest festival on Earth!! Let's recite together 'Salu Alayhi Wa Aalihi'.
Related Events
Eid Milad-un-Nabi Dates
| | | |
| --- | --- | --- |
| Year | Date | Day |
| 2023 | 27 September | Wednesday |
| 2024 | 16 September | Monday |
| 2025 | 5 September | Friday |