Laylatul Qadr, also known as Shab-e-Qadr, is observed every year in Ramadan(the 9th Islamic month). It is one of the odd-numbered nights of the last ashra(10 days) of Ramadan. In the Quran, it is written that Laylatul Qadr is better than a thousand months. Muslims around the world observe the Qadr night with great religious zeal. They pray, supplicate, recite Quran, ask for forgiveness, and do charity to please Allah on Laylatul Qadr. It is also a public holiday in some Muslim countries.
While Qadr night can fall on any of the odd-number nights of the last ashra in Ramadan, most people believe that it is most likely to be on the 27th night and some believe that the 23rd night is possibly Laylatul Qadr. However, many Muslims observe all odd-numbered nights of Ramadan's last ashra by praying.
The 27th night(Laylatul Qadr) will be observed on the night that begins after sunset on Friday, 5 April 2024.
The date may vary according to moon sighting in your area.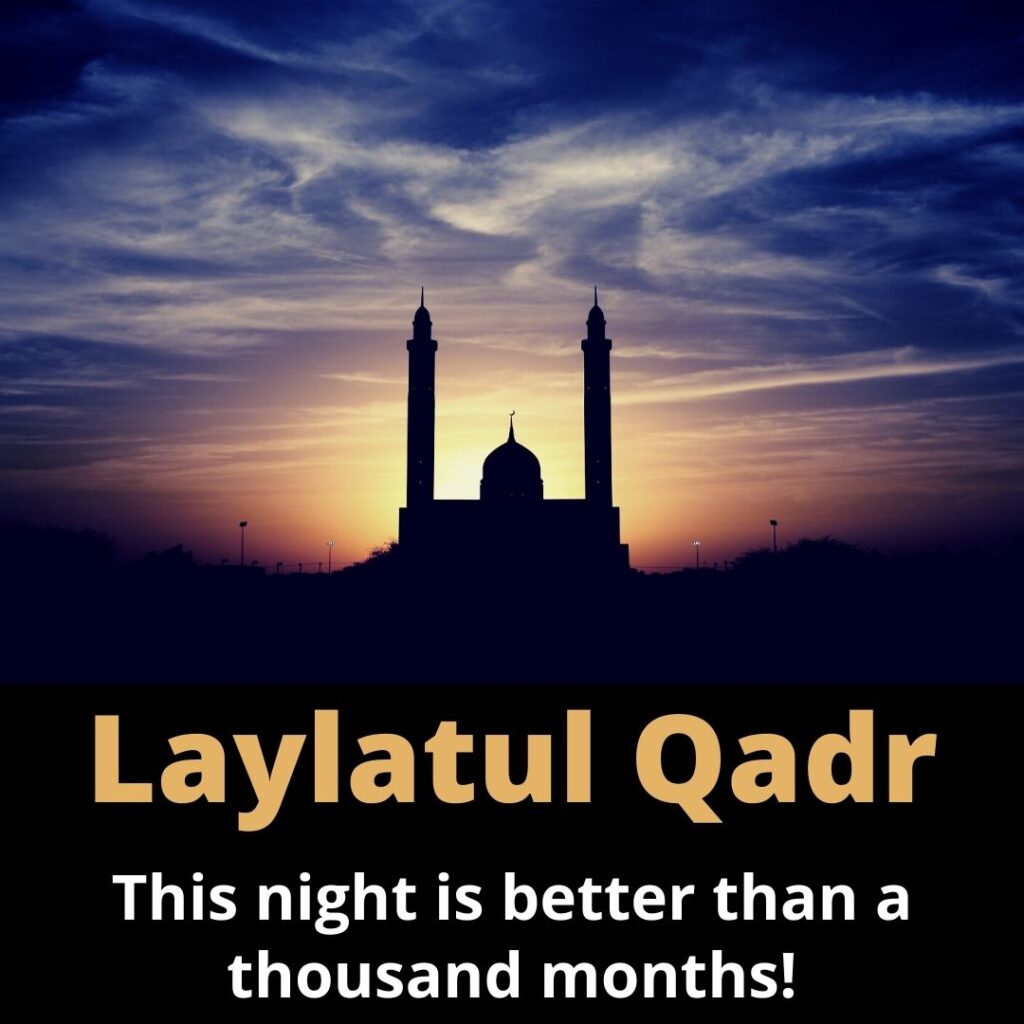 Laylatul Qadr Wishes and Messages
On this special night, I pray that may Allah grant you patience, faith, and a very blessed life ahead.
On Shab-e-Qadr may Allah answer your prayers and bless you with health, wealth, and happiness.
May you and your family always be happy, healthy, blessed, and prosperous. Shab-e-Qadr Mubarak!
Laylatul Qadr is one of the most sacred nights and the best way to observe it is by praying and supplicating.
Please accept my best wishes for Laylatul Qadr and please don't forget to pray for me.
The night of Qadr is better than a thousand months and on this night I pray that you get the best of both worlds.
Laylatul Qadr is a great blessing of God and we are blessed to be spending this night in the mosque. Please remember us in your prayers.
Laylatul Qadr is a wonderful opportunity to please Allah and I wish that we make the most of it.
Shab-e-Qadar arrives once a year from dusk to dawn and brings countless blessings of Allah. May you and your family always stay blessed.
Related Events
Laylatul Qadr Dates
| | | |
| --- | --- | --- |
| Year | Date | Day |
| 2024 | 5 April | Friday |
| 2025 | 27 March | Thursday |
| 2026 | 15 March | Sunday |